Parkers has named the Ford Puma SUV as its New Car of the Year.
The model was praised for its quirky styling, family-friendly practicality and thoughful design and engineering features.
Keith Adams, editor of Parkers, said: "Bursting on to the scene as a stylish, useful and affordable family-sized SUV, Ford has hit the bullseye with its latest – and quite brilliant – Puma.
"Powered by a range of economical mild-hybrid EcoBoost petrol engines, the Puma delivers all the pep most drivers need while delivering excellent fuel economy.
"You can see that Ford has really worked hard to make this the most practical and enjoyable family car possible, a fact that helps it not only win the awards category for Best Small Family Car but for overall honours – the Ford Puma truly is a family car for now – and it's a truly worthy Parkers New Car of The Year winner!"
The Ford Transit Custom also took the Van of The Year award and the Ford Ranger scooped the Best Pickup award, at the 2021 Parkers New Car Awards.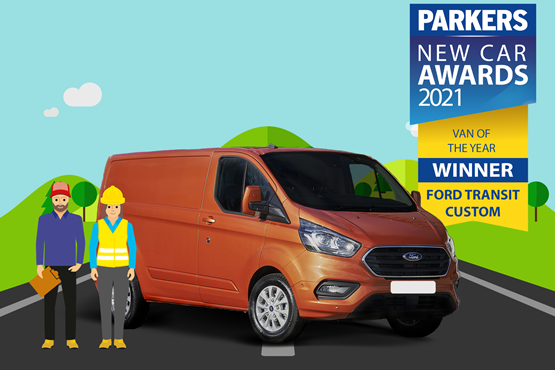 CJ Hubbard, van and pickups editor at Parkers, said: "The Ranger is a hugely impressive pickup truck, with a choice of body styles, great payload capability and a vast options list. Meanwhile, the Transit Custom just keeps on getting better.
"With a continuous programme of updates and the addition of new models to suit an even broader range of customers, this van now has so many talents it was the clear choice for the 2021 Parkers Van of the Year Award."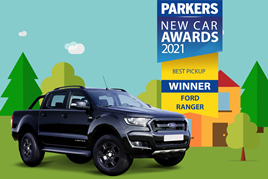 Rounding out Ford's awards haul, the previous-generation Fiesta has been crowned Best Used Car for the second year in a row.
Adams said: "It's a great car to drive that's available in myriad versions, from the super-economical EcoBoost petrols to the brilliant ST hot hatch.
"Prices are competitive, servicing is cheap and it's a reliable and safe car to invest your money in."
Other winners at the Parkers New Car Awards 2021 include SEAT which took home the Best Large Family Car award and Best Seven-Seater with the Tarraco, and BMW, which wins the Best Company Car award for the excellent 330e plug-in hybrid.
Renault also wins a pair of awards with the Clio taking Best First Car and Zoe taking the spoils in the new Best Small Electric Car category.
The Best Medium Family Car is the Mercedes-Benz GLB, while the Land Rover Defender sweeps to an easy win to take the Best Off-Roader award.
The outgoing Car of The Year – the Tesla Model 3 – also took the win in the Best Large Electric Car category.
Adams said: "The Parkers New Car Awards winners show just how good cars, vans and pickups are these days, as they set such an amazingly high standard all round."
The full list of winners:
Best First Car
Renault Clio
Best Small Family Car
Ford Puma
Best Medium Family Car
Mercedes-Benz GLB
Best Large Family Car
SEAT Tarraco
Best Small Electric Car
Renault Zoe
Best Large Electric Car
Tesla Model 3
Best Car for Thrill-Seekers
Porsche Cayman GTS
Best Car for Sun-Seekers
Mazda MX-5
Best Off-Roader
Land Rover Defender
Best Seven-Seater
SEAT Tarraco
Best Luxury Car
Audi A8
Best Company Car
BMW 330e
Best Pickup
Ford Ranger
Best Small Van
Citroen Berlingo / Peugeot Partner / Toyota Proace City / Vauxhall Combo Cargo
Best Medium Van
Ford Transit Custom
Best Large Van
MAN TGE / Volkswagen Crafter
Best Electrified Van
Citroen e-Dispatch / Peugeot e-Expert / Vauxhall Vivaro-e
Best New Car Finance
Vauxhall
Best Used Car
Ford Fiesta
More details on all the winners in the Parker News Car Awards 2021 on the Parkers website https://www.parkers.co.uk/car-awards/