Citroen, Peugeot and Vauxhall light commercial vehicle (LCV) dealers must prepare for an influx of hydrogen-powered vans as the three Stellantis brands prepare to launch fuel cell vehicles.
The French OEM has announced that hydrogen plug-in hybrid vans based on the existing Citroen Dispatch, Peugeot Partner and Vauxhall Vivaro will be offered in the UK from 2022
The new zero-emission models are being billed as the solution for fleets that require more range and faster refill times than is currently available from its current range of electric vans.
Last summer AM reported on how Peugeot and Citroen dealers would be undergoing a new training and support programme to improve their light commercial vehicle (LCV) expertise ahead of the arrival of a new range of zero emissions electric vans.
Stellantis' new hydrogen-fuelled hybrid vans can store 4.4Kg of liquid hydrogen in chassis-mounted tanks, while a rechargeable 10.5kWh battery contributes to a total range of 250 miles.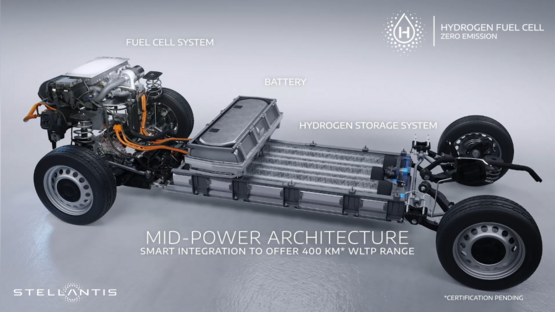 The hydrogen tank can be refilled in just three minutes and the battery can provide a range of 30 miles on its own when fully charged, which takes about an hour.
Harald Wester, head of Stellantis engineering, said: "As we look further into the future, hydrogen fuel cells show great promise – especially for light commercial vehicles – as the next level of zero emission propulsion technology. The technology will fulfil customer range expectations combined with towing and payload capacity.
"At Stellantis, we believe that light commercial vehicles zero emission offers shall meet all customer demands and user profiles, to ensure sustainable delivery activities, in line with environmental stakes."
The van's hydrogen fuel cell is integrated under the bonnet and its hydrogen tanks are placed under the floor where the battery would usually be on electric models. This means there is no impact on the available cargo space or payload.
When driving, electricity supplied by the fuel cell powers the electric motor. The battery is used at low speeds and to boost acceleration. A recuperation system feeds waste energy back into the battery.
Last year the PSA Group announced the launch, this year, of its new Peugeot e-Expert, Citroen e-Dispatch and Vauxhall Vivaro-e electric vans.
Speaking at the time Xavier Peugeot, senior vice-president of Groupe PSA's LCV division, said: "The PSA ambition is to make sure that we can continue to provide freedom in mobility to our customers.
"We know that rules and regulations are changing, particularly in big cities. Access to city centres will be different in the coming years. We need provide our customers with concrete electric answers to allow them to continue to work.
"At the same time, we would like to be able to move people, all together, which is why shuttles will become e-shuttles."