Polestar will embark on a £14.6 billion public listing as part of a strategy to fund "significant investment in products and the expansion of operations and markets", it has revealed.
The Geely-owned performance electric vehicle (EV) manufacturer, which is currently driving sales with just two car models in 14 markets, already counts Volvo Car Group, affiliates of Geely chairman Eric Li and movie star Leonardo DiCaprio amongst its stakeholders.
Its listing will be facilitated by a definitive business combination agreement Gores Guggenheim, however, a special purpose acquisition company formed by affiliates of The Gores Group and Guggenheim Capital, LLC.
It will include approximately $800m (£583.8m) of cash from Gores Guggenheim's trust account and $250m (£182.5m) in cash from PIPE financing, anchored by top-tier institutional investors, Polestar said today (September 27).
Polestar said that, upon closing of the proposed business combination, the combined company will be held by a new public company that will be named Polestar Automotive Holding UK Limited.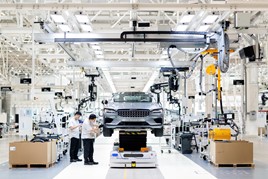 The new PLC is expected to be listed on Nasdaq under the ticker symbol "PSNY".
The transaction implies an enterprise value of approximately USD 20 billion, Polestar said.
Thomas Ingenlath, the chief executive of Polestar, said: "This is a really exciting time for Polestar. With two award-winning cars on the road today in 14 active markets across three continents, we seek to expand to 30 markets by 2023.
"We are thrilled about the targeted addition of three new premium electric cars to our line-up by 2024, starting with our first SUV expected in 2022.
"In Alec and the Gores Guggenheim team, we have found a partner with an impressive track record of bringing leading companies to the public markets.
"The proposed business combination and listing position Polestar as a financially strong, future proof, global electric car company.
"It will enable us to accelerate our growth, strategy and most importantly, our mission towards sustainable mobility."
Polestar has been linked with a public listing for some time.
But AM reported back in April on how Ingenlath had questioned the "paper value" of rival EV manufacturers.
Speaking at the Shanghai International Auto Show, Ingenlath suggested that the EV revolution was in danger of becoming a plaything for speculators which risks losing its focus on making the most significant contribution to climate change since the car was invented.
And he urged Polestar's rivals to get their priorities straight by putting climate change before pushing for a sky-high market valuation.
Ingenlath's April statement came less than a week after Polestar announced that it had raised USD550m (£395.7m) from a group of long-term financial investors to further boost its growth potential.
"It frankly amazes me that there are companies out there that are worth billions of dollars and have never made a car," said Ingenlath.
"I would like to today state clearly that the electric mobility revolution needs to be grounded in reality, not dreams.
"Of course. we want to talk about growth. But by that I do not mean growth in investment levels, valuations or price-to-earnings multiples. I mean real growth. Growth in consumers switching to EVs and growth in harmful emissions being eradicated."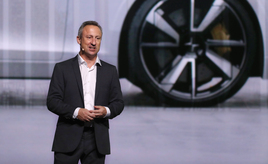 AM interviewed Polestar chief executive Jonathan Goodman for a manufacturer face-to-face insight feature earlier this summer.
In the candid chat, Goodman said that he had found the EV brand's online car retail model 'rejuvinating'.
Founded in 2017 by Volvo Cars and Zhejiang Geely Holding, Polestar currently sells its Polestar 1 and Polestar 2 models across Europe, North America and Asia.
Earlier this month, the OEM revealed its plans to expand its operations from nine to 30 markets by the end of 2022 and launch three new models by 2024.
The strategy aims to accelrate Polestar registrations from 10,000 vehicles in 2020 to approximately 290,000 by 2025.