Performance electric vehicle (EV) brand Polestar has revealed plans to grow its global presence from nine to 30 markets by the end of 2022.
The Geely-owned EV brand's UK chief executive, Jonathan Goodman, revealed in an interview with AM earlier this year that franchised partners will soon open two new Polestar Space facilities in Birmingham and Glasgow – doubling its footprint in the UK before the end of the year.
But while detail of the openings – which will join sites in London and Manchester, operated by Endeavour Automotive and Lookers – has yet to be confirmed, plans have now been revealed for ambitious global growth.
After confirming in July the doubling of its markets in 2021 from nine to eighteen, Polestar has revealed that aims to establish itself in a further twelve markets through 2022.
The move will see around 100 Polestar Spaces and Destinations will be operational by the end of 2021 with many more to come.
Polestar credits and agile and unique, digital-first business model for its "breakneck growth".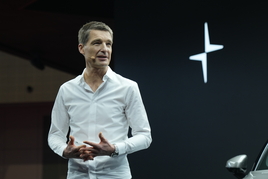 Speaking at the Munich Motor Show, Polestar CEO Thomas Ingenlath said: "Growth on this scale is unprecedented and confirms our position as a truly global, pure EV brand.
"Our unique business model has allowed us to develop the manufacturing capacity we need to satisfy demand. Our digital-first approach means we can enter new markets faster. And, crucially, the service network vital to customer peace of mind is already in place."
Polestar's 2021 expansion plans include new markets in the Middle East, including Kuwait and the United Arab Emirates.
Luxembourg and Iceland will also join the growing European base.
Key Polestar rival Genesis revealed last week that it plans to become a zero emission vehicle brand by 2030 and aims to become carbon neutral by 2035.
At the launch stage, Genesis has had to go without an EV in Europe.
In an OEM face-to-face interview with AM, Genesis Motor UK managing director Andrew Pilkington, who joined the business from a position as Polestar UK managing director in 2019, said that he online only retail brand would be ready for the EV revolution.
He said: "Our opportunity is much wider than a single model with an electric drivetrain.
"We have to have a strategy around EV. Today we're launching the brand with petrol and diesel, but very quickly we'll be launching with G80 EV and then two other EV models within the first 12 months.
"That gives us the opportunity to launch the brand, present the brand and then very quickly grow the brand.
"People still demand more choice than simply electric. There are issues with real-world range anxiety.
"What we can say is that when you are ready, we will be ready."