When Polestar UK chief executive Jonathan Goodman told AM he was "thoroughly enjoying" his role overseeing the roll-out of the performance electric vehicle (EV) brand, it's clear that he means it.
The Geely-owned brand arrives in the UK with a wholly online sales model at a time when many franchised networks are being slimmed down to leverage greater profitability and dealers are working hard to adopt increased digital retail due to COVID-19 lockdowns.
And, as a fully electric brand – once the Polestar 1 hybrid ceases production at the end of 2021 – Polestar has CO2 emissions credits to spare while other manufacturers battle with the shift to EVs amid fears of stringent EU fines.
Polestar has a sales strategy aiming to "fundamentally change the face of car retail". However, Goodman insists that there was never any doubt it would draw on the know-how of traditional franchised car retailers to deliver industry-leading customer service.
"We took the approach very early on that we were not going to make the mistake that some manufacturers have of thinking that we could run a retail site better than the retail partners can," Goodman told AM.
"We wanted it to be a partnership and we wanted it to be a relationship that matters for our investors, so they are making good margin on the cars
"A partner selling 500 cars a year will be making a very good profit."
LEAP OF FAITH
Now with two retail partners in the UK – Endeavour Automotive at London's Westfield Shopping and Lookers at Manchester's Trafford Centre – Polestar plans to grow its physical footprint to underpin its online sales offering and BCA sub-contracted home delivery service.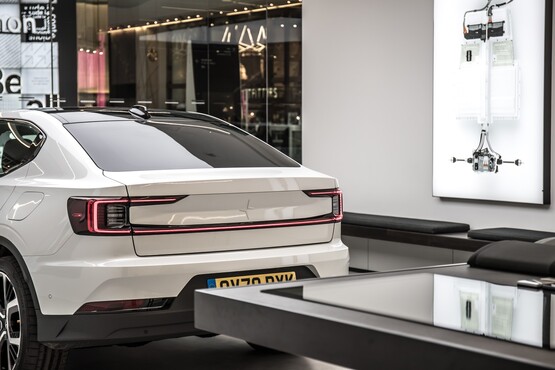 New Polestar Space stores will be opened in Glasgow and Birmingham by the end of a year which Goodman expects to yield "big, big growth in terms of volumes", ahead of expansion with "a fair few more" in 2022/23.
"Our first retail partners had to buy into the Polestar project without having seen or driven the cars," he says.
"They had to commit to something totally different, with no commission, no wholesale cars and customers who will primarily interact with us.
"They have done a fantastic job, while coping with COVID-19 lockdown, and they're now as excited as a kid in a sweet shop to get on with operating more as we would like and realising the potential of the brand."
Contracts have yet to be signed on the Birmingham and Glasgow sites, but they will follow the same brand guidelines as early adopters Endeavour and Lookers.
WHO PAYS FOR WHAT?
The cost of setting-up and running a Polestar Space is covered by the franchisees – along with localised marketing – as well as staffing the site with commission-free
product experts.
Demonstrators are funded by the brand.
Goodman says the aim is to establish the facilities in high-footfall areas and offer a hassle-free introduction to people who may just have popped in for a look or made a special trip to take a test drive.
Polestar retailers operate on a non-commission, fixed fee per sale agency model agreement, with all sales completed online and remuneration attributed according to a customer's proximity to a particular Polestar Space.
A network of 100 Volvo franchisees provide Polestar's approved aftersales service. Collection and delivery of cars – with the option of a courtesy car – is one of the brand's USPs.
The Polestar 2 sits on the same CMA platform as the new Volvo XC40 Recharge and the brands' shared aftersales set-up delivers incremental aftersales business for franchisees, Goodman says, without any corporate identity (CI) requirements.
Goodman returned to the UK to take on the chief executive role after a spell as the brand's global chief operating officer following the departure of Polestar UK managing director Andrew Pilkington to rival online brand Genesis Motor Europe in July last year.
He says it was "exciting" to be involved with the UK launch of a new EV brand which was starting with a clean slate and no legacy infrastructure, stating: "After 35 years in the automotive sector (mostly with Peugeot and its parent PSA), joining Polestar has been rejuvenating. I'm thoroughly enjoying it. Starting from a blank canvas, we can pick the best bits of the model and evolve as we go along. Change is difficult for other brands who might have 250 investors who have each
invested millions to be part of the franchise."
RANGE EXTENDING
Polestar is currently relying almost exclusively on its Polestar 2 to deliver its sales growth after the first customer cars arrived into the UK last September.
Production of its debut plug-in hybrid, the Polestar 1 coupe, will end later this year.
A coupe-styled Polestar 3 SUV will be added to the model line-up next and the brand has also confirmed that its four-door Precept coupe concept will go into production.
As part of his UK role, Goodman leads Polestar's research and development operation in Coventry, a project he describes as one of the brand's "best kept secrets".
He says the UK is at the heart of the development of upcoming vehicles, with recruits from aerospace and Formula One assisting the brand's teams at its Gothenburg HQ.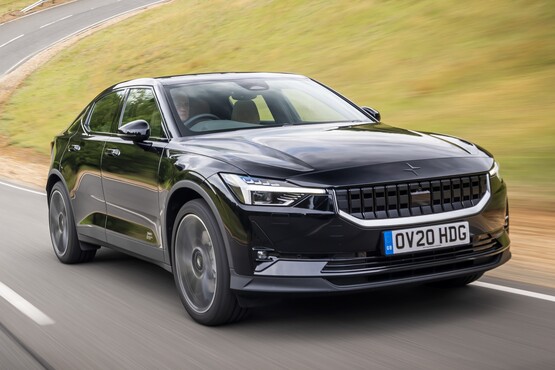 As of the middle of April, Polestar is offering the Polestar 2 in three levels of specification, having previously offered just the long-range, 408PS dual-motor Launch Edition.
Goodman says he felt the market for a £50,000-plus EV was limited, but says that the new choice single-motor variants with the same 78kWh or a smaller 64kWh battery – offering a £39,900 starting price – will broaden the brand's customer base.
"Our biggest issue is stock availability," he says. "We've got additional production for the second half of the year, so we should be okay."
The brand does have around 20 pre-configured vehicles in stock at any one time, however, allowing customers to avoid a three-month lead time on new orders.
It is also planning to launch a used car element to its online sales, in May, as vehicles start to re-enter the market.
Another hurdle to Polestar's growth potential is Government policy.
The full impact of Polestar's new, more affordable derivatives was lessened by the reduction in plug-in car grant (PiCG) cap from £50,000 to £35,000 – making the range ineligible for the incentive – and Goodman branded the changes "a mistake".
Speaking at the SMMT Electrified event in March, he told Society of Motor Manufacturers and Traders chief executive Mike Hawes that incentives for consumers need to mirror those currently in place for fleet and business, being sustained and consistent.
"There is consistency and certainty in the company car market with the BIK (benefit-in-kind) rates. That's a policy that people have clear visibility of for the next two years," Goodman says.
Currently, around 75% of Polestar's sales are to fleet and business users, with user-choosers a particular area of success.
Goodman says online retail processes ensure retail and corporate customers get the same levels of experience and support, which isn't always the case with other brands which, he says, are often a less flexible when it comes to serving fleet customers at their franchised sites.
He tells AM Polestar will not realign its pricing to follow the Government's changing incentive policies, as some other brands have done.
"From our perspective we're looking at a new brand with high demand," he says.
"I think it's a very dangerous game to play to reduce margins to get to the (PiCG) threshold. What if that threshold changes again?
"We know the price point for our cars and we're going to stick to it."
He adds: "Government policy has to allow the industry to plan. We're already on a short timescale to get to 2030."
Goodman believes Polestar's Google HMI technology system will help to overcome the infrastructure and range anxiety issues that many industry commentators cite as another hurdle for widespread EV adoption.
Google maps correlates route data to the available range and will indicate potential charge locations along the way.
Goodman says that work is also underway to integrate with some of the sector's charge point apps.
But he adds: "There are still readjustments to be made to people's mindset when it comes to EVs. With a WLTP range of 220 to 230 miles, who needs more than that?"
'TOUCH AND FEEL'
An introduction to life with an EV is a central part of Polestar's latest series of test drive events across the UK.
Beginning at the end of April with events in Exeter and Cambridge, the operations are designed to reach customers who might not be located near a Polestar Space, but want to experience a car in person.
Test drives are hosted from "suitable locations", including hired premises and temporary pop-up facilities.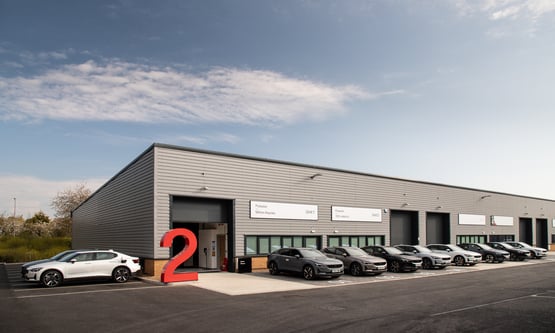 Polestar franchisee Lookers has hosted test drive events from its Lookers House headquarters in Altrincham.
Goodman says the brand expects to host between 29,000 and 30,000 test drives during 2021.
"People want to touch and feel the cars and these events allow us to reach a lot of people," he says.
"The test drives have been booked-up straight away, so we don't feel we're lacking enthusiasm from customers, but we have also started marketing the brand more widely now.
"We have a TV campaign up and running now and Film 4 sponsorship started about a week ago, which is great."
He adds: "We're one of the few brands which is on a growth trajectory right now. It's an exciting time for us and our retail partners."
Unlike Polestar's single-minded promotion of its alterative fuel vehicle (AFV) line-up, Goodman says that other manufacturers' marketing activity will be a huge challenge over the coming years as they await full-electrification closer to the UK Government's 2030 target date for a ban on the sale of all new purely petrol- or diesel-powered cars.
"They have the issue of pushing EV while not putting down their petrol and diesel vehicles, which is still going to make up 70% of their volume for a while to come," he says. "That's a tough task."
Polestar – like EV rival Tesla – is also amassing CO2 emissions credits as it beats the EU's 95g/km fleet emissions CAFE regulations targets.
Goodman was guarded when asked whether the credits would be used to ensure sister brand Volvo met its obligations, thus avoiding any risk of punitive fines.
He says: "Nothing's been decided. They're our credits to do with as we please."