By the end of the year, BYD expects to have a UK network of 27 franchised dealerships, rising to a final figure of around 100 by the end of 2024.
Current partners include national groups such as Arnold Clark, LSH Auto UK and Pendragon, but BYD is also looking for regional representation with smaller operators, according to Simon Bisp, BYD UK head of sales.
Some, such as City West Country, are also signed up.
It is also planning on a ratio of two aftersales point for every sales outlet, which means a network of 200 repairers by the end of next year, all linked to a franchised dealer partner. Bisp recognises that this is a key part of the purchasing decision, particularly for fleets which are leading the demand for electric vehicles currently, and he moots the idea of collect and deliver to widen the area served for aftersales.
He also recognises that some initial sites may have to expand to accommodate BYD's future model plans. The company is contemplating 'physical presence' sales locations which are not full dealerships. Plans are yet to be drawn up, but conversations are taking place with existing dealer partners.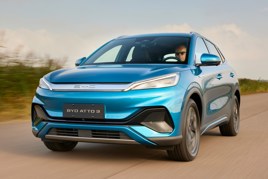 BYD has revealed an aspiration to capture 6% of the UK electric vehicle market over the next few years on the back of an accelerated model launch plan that has seen three cars already unveiled and another three or four expected in 2024.
But it wants to maintain a balance, and avoid distressing RVs, which means no part of the market, whether fleet, rental, Motability or retail, will exceed the 6% share threshold as the company begins to build its volumes.
Bisp said: "Over committing in some channels puts pressure on residual values. Our growth will be built on customer demand, and we are confident we have the support to get the volumes we need to meet that demand."
In addition to the six or seven BYD models over the next year or so, the company is also considering bringing its Denza premium brand to the UK with the D9 MPV, which targets limo companies.
"BYD is the generalist volume covering all the segments from A to E-SUV and our priority is to accelerate that even quicker than originally planned," Bisp said.
"But we also have more sub brands that could come out like Denza and YangWang at the luxury end. There is huge demand in China for the Denza D9 as executive transportation but there is also an SUV that we may get."
He added: "Yangwang is on our Platform 4.0 which is what we will get for the next generation of BYD."
As a measure of its growth ambitions, with electric cars on track to hit 350,000 units this year, a 6% share would equate to 21,000 cars, although that target number will continue to rise as demand for BEVs increases.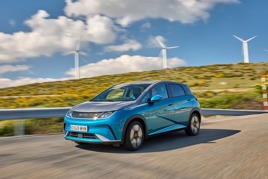 At the launch of the new Dolphin C-sector hatchback, Bisp said: "There is no ceiling to the number of cars we can have; we can be flexible to the market demand. We want to have volume in the UK ready for delivery to keep lead times to a maximum of a month. But if demand exceeds supply, there could be a three- or four-month lead time."
In addition to the Atto 3 compact SUV, Seal sports saloon and Dolphin, BYD debuted the Seal U, a mid-size SUV, at this month's Munich motor show, which will initially be available as a plug-in hybrid in early 2024 followed by a full electric version later in the year.
"Our plans are to bring out vehicles in the A and D segments in the longer term," added Bisp.
Since deliveries began in May, the Atto 3 has sold 212 units. Early demand has come from salary sacrifice, thanks to the agreement with Octopus EV to purchase 5,000 electric vehicles from BYD over the next three years.
Retail has been slow "because retail for electric is slow in general", said Bisp. "We're also still building our team for the other channels."
BYD is poised to launch its first national advertising campaign via Sky AdSmart which enables it to target adverts in the regions where it has one of its nine retail outlets.
"We have the budgets, but there is no point wasting it by going too early," Bisp said.