Peugeot has been ranked as the UK's most dependable car brand in JD Power's fifth annual survey to identify the most reliable products on the market.
Just one premium brand made the top ten of the 2019 UK Vehicle Dependability Study, which is based on responses from 11,530 owners of new vehicles registered from November 2015 through January 2018 and measures the number of problems experienced per 100 vehicles (PP100), with a lower score indicating better performance.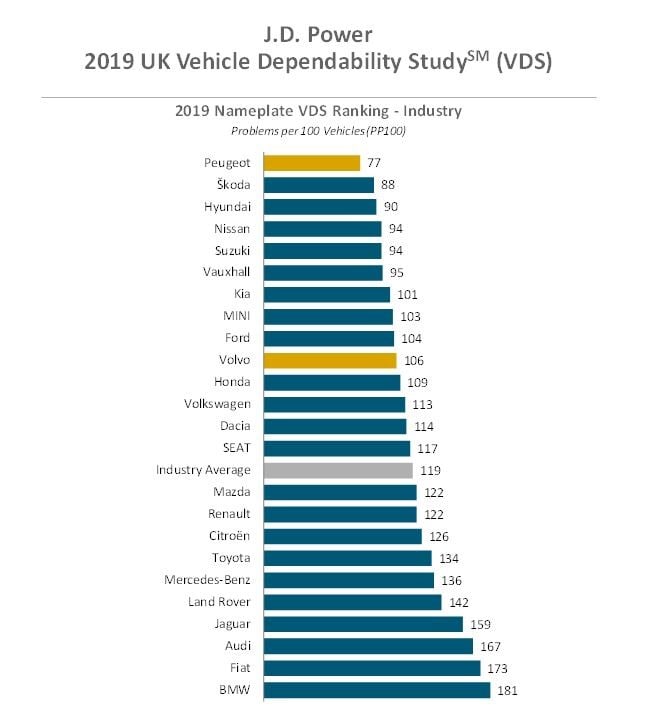 Peugeot ranked highest overall among all brands with a score of 77 PP100, followed by Skoda (88 PP100) and Hyundai (90 PP100).
Among premium brands, Volvo ranked highest with 106 PP100 and Mercedes-Benz (136 PP100) ranked second.
Vauxhall and Volkswagen each received two segment awards, meanwhile, Vauxhall earning awards for the Insignia (midsize car) and Mokka/Mokka X (small SUV), and Volkswagen for the Up! (city car) and Tiguan (compact SUV).
JD Power's annual study showed that repurchase intention has increased, with 49% of respondents this year stating that they "definitely will" repurchase the same brand, compared with 43% in 2015.
Repurchase intent in 2019 is 54% among owners who did not experience problems, the same percentage as last year.
However, costly repairs significantly affect repurchase intent. Among all owners who rate the cost of ownership as very unsatisfactory due to costly repairs (5 or below on a 10-point scale), just 16% say they "definitely will" repurchase the same brand.
JD Power said that this year's survey once again delivered evidence that manufacturers' race to "cram new vehicles with the latest technologies" is turning into a headache for owners, with audio/communication/entertainment/navigation (ACEN) systems comprising half of the 10 most problematic issues that owners cite in their new vehicle.
The study measures 177 problem symptoms in eight categories: vehicle exterior; driving experience; features/controls/displays (FCD); audio/communication/entertainment/navigation (ACEN); seats; heating, ventilation and air conditioning (HVAC); vehicle interior; and engine and transmission.
The ACEN category averages 16.6 PP100 overall, a slight improvement from 2018, but issues with built-in Bluetooth, built-in voice recognition, navigation systems and poor radio reception mean ACEN remains one of the most problematic categories
Josh Halliburton, head of European operations at JD Power, said: ""When we look at the PP100 scores of relatively new safety technologies, it's clear that manufacturers still have work to do to perfect those systems—particularly premium brands that use them as a major selling point.
"It's also going to be vital for vehicle makers to win customer trust in this technology if they are to convince potential buyers that fully automated vehicles in the future will be reliable.
"For example, such buyers are quite likely to question the safety of self-driving cars if brands still struggle with the accuracy of their navigation systems."
The JD Power survey's most dependable car models, as determined by survey respondents, were: