Car dealers concerns about the roll-out of the new RDE2 Real Driving Emissions car testing standards in September are 'unlikely' to manifest themselves in a WLTP-like impact on the market, according to Cox Automotive.
Supply shortages and a rush to clear derogated vehicles for car dealer forecourts ahead of the introduction of the new Worldwide Harmonised Light Vehicle Test Procedure (WLTP) for fuel economy in 2018 triggered a 23.1% rise in registrations in August and a resulting 20.5% year-on-year decline a month later.
AM reported at the time that Volkswagen Group brands accounted for 49% of the UK's total registrations decline as the brand's WLTP-related supply woes were felt by car retailers in September.
A total of 42,830 fewer vehicles were registered by Audi, Bentley, Porsche, Seat, Skoda, and Volkswagen compared to the same period in 2017.
Delivering an appraisal of the coming month, while gauging dealer sentiment in his monthly Market Trackler report, however, Philip Nothard, Cox's customer insight and strategy director, said that the while introduction of RDE2 was "unlikely" to deliver similar results it may "shake things up".
The statement came as 56% of retailers said that they believed customer demand faleterd still further last month.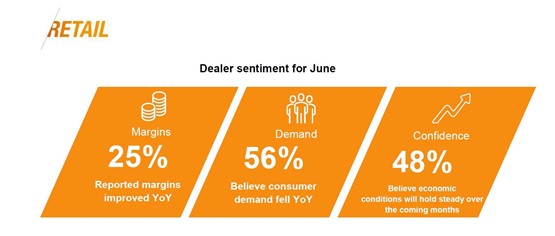 Nothard said: "It's clear that some manufacturers have enjoyed greater success than others in the first half of the year, but the introduction of RDE2 in September looks set to shake things up.
"With dealers reporting concerns that some manufacturers are not fully prepared for the change, we could see a drop in new car availability, and an unseasonable number of August registrations.
"That said, the new legislation is unlikely to have the marked impact caused by the first phase of WLTP last year."
The roll-out of RDE2 in September means that it strict real-world testing of nitrogen oxide (NOx) emissions will become mandatory for all carmakers.
Under current legislation no new diesel or petrol engine car permitted to emit more than 0.080g/km.
RDE2, allows cars to emit 1.5 times the amount of NOx during RDE testing. This becomes mandatory for all cars on sale by January 2021.
Cox's used car report
Cox Automotive's Market Tracker report also reveals trends in the used car market where it operates its remarketing and stock funding businesses.
It found that, during June, stock availability in the wholesale market had continued to improve.
Fleet volumes at Manheim increased significantly month-on-month, it said, and in turn the average price for fleet and part-exchange vehicles fell by 4.5% and 1.8%, respectively.
Dealer Auction, the trade-to-trade online auction platform, also saw the overall average price fall month-on-month, down 3.3% to £4,476, although average performance against Cap HPI value improved by 0.5%.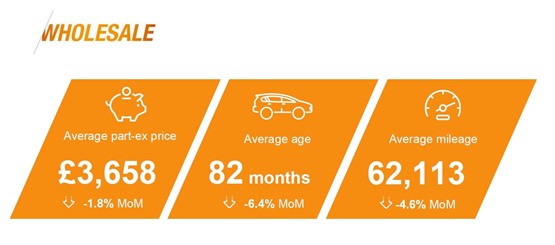 The business said that it had continued its impressive growth trajectory, recording a 30% year-on-year increase in the number of vehicles listed on the platform in June.
In terms of stock mix NextGear Capital recorded a fall in average vehicle age (down 1.6% to 72 months) and mileage (down 1.9% to 59,493) for vehicles bought using its stock funding plan.
Nothard said: "For the last 18 months and more we've seen a strong used car market with tough competition for vehicles.
"As a result, some dealers have been lulled into a false sense of security when valuing part-exchange vehicles."
"With fleet volumes gradually increasing, and softer levels of demand, dealers can no longer rely on competition in the hall to off-set missed damage.
"With that in mind, we recommend that retailers review appraisal training for their sales team to make sure they offer fair and realistic values for part-exchange vehicles."