Sales of new diesel cars have fallen for the 29th month in a row, although the pace of decline is slowing, according to the Society of Motor Manufacturers and Traders.
Its figures show August 2019's new car market was 1.6% behind August 2018, at 92,573 car sales. Within that, petrol and alternative fuel vehicles rose in demand but diesel orders dropped 12.2%.
Registrations from both the private and fleet sectors declined in the month, down -1.7% and -3.5% respectively, as demand in the small volume business segment increased by some 962 units.
Zero emission cars grew fastest, up 377.5%, to 3,147 units as new models and some pent up demand boosted registrations, while 4,014 hybrid electric cars also joined UK roads, an uplift of 36.2%.
Following its sales success elsewhere in Europe, Tesla's new Model 3 saloon – which begun UK deliveries in June – was the market's third best-selling car as it found more owners than the Ford Focus, Mercedes A-Class and Ford Kuga.
However, the decline in plug-in hybrid registrations continued, down -71.8% to just 907 vehicles. A decline in lower emission vehicles was first reported in June.
Mike Hawes, SMMT chief executive, said: "August is typically the new car market's quietest month so the huge increase in EV registrations is very visible but especially welcome. It's great to see consumers respond to the massive industry investment made over many years.
"While this is encouraging, these figures also show the scale of the challenge ahead. It's a long road to zero and while manufacturers can deliver the technology, they can't dictate the pace of uptake.
"To support a smooth transition and deliver environmental gains now, we need a long-term government commitment to measures that give consumers confidence to invest in the latest technologies that best suit their needs."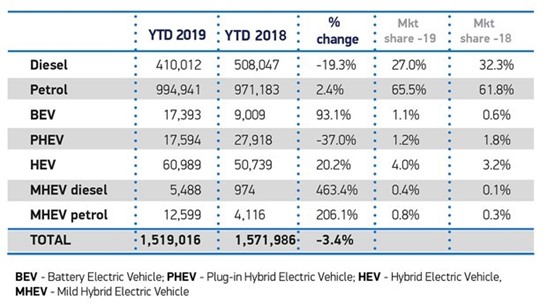 At Auto Trader, commercial director Ian Plummer said: "Unsurprisingly the market is down, despite retailers and manufacturers best efforts as they sought to beat the new Real-world Driving Emissions (RDE) test deadline by self-registering large volumes of cars before the end of the month. This has effectively inflated sales."
Plummer's concern is for the September market, which must continue to contend with the ongoing Brexit negotiations and political uncertainty.
"Although sales look encouraging in August, the longer term drive to accelerate alternative fuelled vehicle (AFV) sales is stalling, as heightened consumer demand is now outstripping supply. Almost certainly a symptom of Britain's impending EU exit, while manufacturers are struggling to produce enough batteries and electric cars, those that are rolling off production lines are destined for other, more profitable markets," Plummer said.
He believes that if the UK continues to see an exchange rate at or around parity with the euro, it may even miss out on the best and newest EVs as manufacturers may make the decision to divert the vehicles to other markets where these cars are not only more profitable but also more certain to count for the imminent and very stringent fleet emissions targets that they need to comply with from next year.
"Many European markets are now leaving the UK in their wake: penetration is already high and growing faster than in the UK. In France and Germany new car sales of AFVs were up by 15% and 63% in the first quarter of 2019 and in the pioneering markets such as Norway and Holland AFV's were up by 37% and 49%," he said.
MORE > New car sales figures data
MORE > Car sales per franchised outlet by brand