Coronavirus has joined 2020's shift to stringent EU CO2 emissions regulations to threaten UK car dealers' supply of vehicles and parts, according to Cox Automotive.
In its analysis of the January trading environment, the used car remarketing, funding and data specialist said that the move to CO2-incentivised sales as manufacturer bid to mitigate CAFE fines and now the threat of disease would all play a role in the market during the next 12 months.
In the longer term Brexit and the new 2035 deadline for the ban on sales of new petrol and diesel engine-powered cars are also sure to provide further disruption.
Philip Nothard, customer insight and strategy director at Cox Automotive, said that the inclusion of hybrid and plug-in hybrid vehicles to Government's plans for 2035 would hit manufacturers hard with "just two design cycles to shift their business plans".
However, the threat of fines for OEMS who breach the EU's new 2020/21 95g/km CO2 emissions limit and the impact of the Coronavirus are posing more immediate issues.
Nothard said: "Of course, the new CAFE regulations are already having an impact on supply, with some franchises better placed than others.
"The coronavirus is also making an impression, with manufacturing plants for OE and aftermarket extending their lunar new year shut down while governments try to contain the spread of the virus.
"This may well cause further supply issues later into the year, depending on the duration of the shutdowns, leading to a knock-on effect in the wholesale markets."
AM reported last week on OEMs move to incentivise the sale of low-CO2 emission vehicles through its dealer networks, with PSA Group among those changing bonus structures to drive the sale of alternative fuel vehicles (AFV).
Cox's used car market data for January suggested that petrol and diesel vehicles had remained a central component of a relatively buoyant area of the retail sector.
Average wholesale prices reached the second highest January total in the past five years, according to data released by global automotive solutions provider Cox Automotive.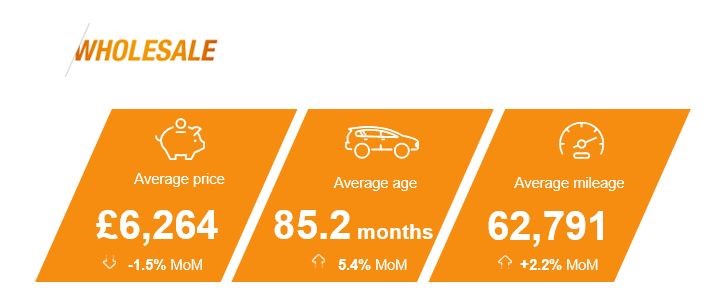 Figures for January 2020 put average prices at £6,264 for the month, with only January 2018 doing better in the past five years, at £6,626.
Correspondingly, average mileage in the wholesale markets was also down on much of 2019, at 62,791 in January – a -2.4% decline YoY.
Average age has remained relatively flat as an overall trend for the past year; however, showed a seasonal 5.4% increase month-on-month, reflecting what Cox described as "the challenges for good quality stock at the turn of the year".
Data from NextGear Capital, the stock funding arm of Cox Automotive, suggested similar trends, with the average price funded increasing to £7,836, up 2.4% year-on-year.
Cox reported: "A short-term expansion in stock levels, in line with seasonality, meant average mileage rose +0.6% to 62,224, while average days in stock increased by 1.6% to 6.3 days."
Cox's trade-to-trade auction platform, DealerAuction.co.uk, overall conversions were at an all-time high, due to shortage of good quality stock.

Despite the changing rhetoric around internal combustion engine (ICE) cars, average diesel values in the wholesale market remained relatively stable, according to Cox.
Diesel values rose 0.5% MoM but were down 1.9% YoY.
Petrol models have shown a significant uplift YoY, up 6.6% but were down 2.7% MoM.

The monthly dealer sentiment survey carried out by Cox's digital marketing arm, Modix, suggested a positive used car sales environment in January.
Footfall was higher than January 2018 according to 45% of respondents, while 59% felt an increase on online activity.
Stock availability remains a challenge, with 56% citing it was worse than last January, however, and 32% also felt retained margins had decreased YoY.
Nothard commented: "Margins have been a topic of great debate over the past 12 months and it is positive to see signs of green shoots in the market, with a third of dealers reporting a rise compared with last year.
"Strength of consumer demand continues from December and echoes the rise in the Consumer Confidence Index, with nearly four fifths of dealers suggesting demand had increased or remained the same."