Car production slumped to a nine-year January low in the UK despite a 4.1% year-on-year rise in exports volumes, the Society of Motor Manufacturers and Traders (SMMT) has reported.
Despite a growth in overseas demand for UK-built product, which the SMMT attributed to the appeal of new models rolling off production lines, the SMMT reported that weak demand resulted in a 23.9% drop in the number of vehicles built for the home market.
A total of 97,870 vehicles were built for export during January, compared to 20,444 vehicles produced for sale in the UK, as production levels dropped 2.1% on the same period in 2019.
UK car production has now fallen in 19 of the last 20 months.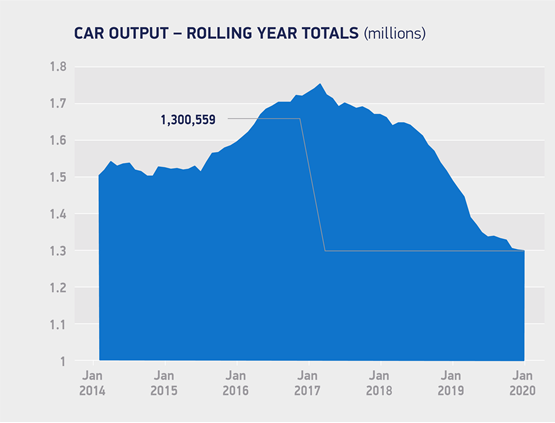 SMMT chief executive, Mike Hawes, said: "Exports are the bedrock for UK car manufacturing so a rise in January exports is welcome following recent declining demand in overseas markets.
"These figures, however, still give great cause for concern, with another month of falling car production driven by a lack of confidence and corresponding weak demand in the UK.
"The upcoming Budget is an opportunity for the government to provide supportive measures to stimulate the market, but the biggest boost would be the agreement of an ambitious free trade deal with Europe.
"This would end the ongoing uncertainty and help the UK to recover its hard-won reputation as a great place for automotive investment."
Last month the SMMT again renewed its call for a UK-EU free trade deal after its 2019 car manufacturing data revealed a 14.2% decline in production during 2019.
Vehicle production in UK plants reduced for a third consecutive year last year, with a total of 1,303,135 units units rolling off production lines, following a 6.4% reduction in productivity during December.