The Society of Motor Manufacturers and Traders (SMMT) has once again renewed its call for a UK-EU free trade deal after its 2019 car manufacturing data revealed a 14.2% decline in production.
Vehicle production in UK plants reduced for a third consecutive year, with a total of 1,303,135 units units rolling off production lines last year, following a 6.4% reduction in productivity during December, the industry body revealed today (January 30).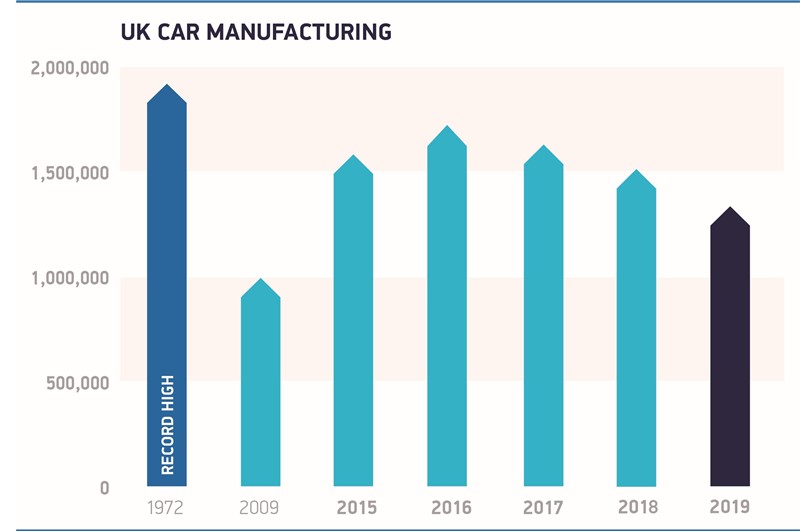 The SMMT said that the UK's output decline to its lowest level in almost a decade had been affected by multiple factors, including weakened consumer and business confidence at home, slower demand in key overseas markets, a number of significant model production changes and a shift from diesel across Europe.
Factory shutdowns in the spring and autumn, timed to mitigate expected disruption arising from the anticipated departure of the UK from the EU on 29 March and 31 October, also had a marked effect, it said.
But a free trade deal needs to be struck in order to allay "grave concern" about the future of a sector which accounts for one-in-14 (168,000) manufacturing jobs and pays UK wages amounting to over £6 billion, said SMMT chief executive Mike Hawes.
"The fall of UK car manufacturing to its lowest level in almost a decade is of grave concern," he said.
"Every country in the world wants a successful automotive sector as it is a driver of trade, productivity and jobs.
"Given the uncertainty the sector has experienced, it is essential we re-establish our global competitiveness and that starts with an ambitious free trade agreement with Europe, one that guarantees all automotive products can be bought and sold without tariffs or additional burdens.
"This will boost manufacturing, avoid costly price rises and maintain choice for UK consumers. Negotiations will be challenging but all sides stand to gain and this sector is up for it."
Downgraded prospects
The SMMT reported that production forecasts for 2020 have now been downgraded to 1.27 million units, from the 1.32 million forecast made in November.
In a statement issued today, the body said: "To arrest this decline and ensure the future competitiveness and success of UK automotive manufacturing, negotiations on the future UK-EU relationship – and trade deals with the rest of the world – must move quickly and deliver for this critical sector."
The SMMT said that investment in the UK automotive manufacturing sector had once again fallen in 2019, with a total £1.1 billion of fresh automotive investment publicly announced for the UK some 60% lower than the £2.75bn averaged over the previous seven years.
The bulk of 2019's pledged investment came in the form of Jaguar Land Rover's (JLR) Government-backed expansion of EV production in the West Midlands.
2019 manufacturing break-down

Manufacturing for domestic car buyers fell by 12.3% to 247,138 units during 2019, while exports also took a hit – down 14.7%.
Overseas orders continued to drive volumes, however, accounting for more than eight-in-10 cars built and totalling over one million units, the SMMT said.
Although shipments to the EU27 fell, by 11.1%, the bloc remains the sector's most important market with its share of exports rising by 2ppts to 54.8%.
Trade with the UK's next largest markets, the US (18.9% of exports), China (5.3%) and Japan (3.2%) also fell, with exports down 9.8%, 26.4% and 17.7%, respectively.
The SMMT reported that the UK's renowned small volume car manufacturing sector bucked the trend, boosting output by 16.2% in the year.
More Nissan Qashqai SUVs were built during 2019 than any other vehicle, with the Mini hatchback, the new Toyota Corolla, Honda Civic and Range Rover Sport ending the year as the most successful UK-built products.
Production of alternatively fuelled vehicles (AFV) rose by 34.7% to 192,304 units, meanwhile, despite the fact that the Nissan Leaf – which missed out on a top ten finish in the UK's most intensely produced vehicles – is the only pure electric vehicle (EV) currently produced in significant numbers.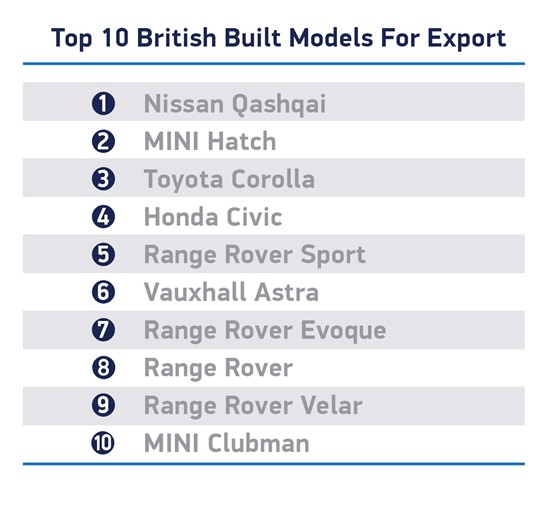 Production figures are 'worrying'
Commenting on today's 2019 UK car production output data, Justin Benson, head of automotive at KPMG, said: "The UK's car production numbers are worrying, particularly as most of the vehicles manufactured in automotive are exported.
"Global pressures are softening demand as much as recent local factors. The silver lining in the UK, however, is commercial vehicles, and particularly electric commercial vehicles.
"For the industry the UK is a centre of excellence, and investment for low/zero emission vehicles is increasing rapidly.
"Fully battery electric vehicle sales were up nearly 125% in 2019, and whilst the transition is difficult, the UK is a great place to invest in the opportunities ahead."
David Leggett, automotive editor at GlobalData, added: "UK car manufacturers are hoping that negotiations between the UK and EU regarding a permanent future trading relationship will go smoothly to secure tariff-free trade-in vehicles, as well as no additional burdens or costs.
"With almost 55% of the UK's total car export shipments heading for the EU27 - by far the largest export market destination - the competitive implications of any disruption to those trade flows, for parts as well as vehicles, are stark.
"The UK's automotive sector needs to continue to secure increased investment, especially in emerging key technology areas such as electrification - something that will be helped by keeping the overall level of car manufacturing activity stable and by maintaining confidence."