Ford suffered the largest February sake decline by volume as Mazda and Suzuki also faltered in February's Society of Motor Manufacturers (SMMT) new car sales figures.
The blue oval's new car registrations declined by almost 2,000 vehicles last month, declining by 18.6% to 8,462 (2019: 10,390) as Suzuki's registrations slipped by 62.9% to 1,021 (2019: 2,750) and Mazda saw its volumes fall by 38.6%, from 1,543 to 948.
The results leave Ford 8.1% down year-to-date - its retailers currently trading without the popular Kuga SUV as they await the arrival of the new model in Q2 - Suzuki down by 51.1% and Mazda 30.3%.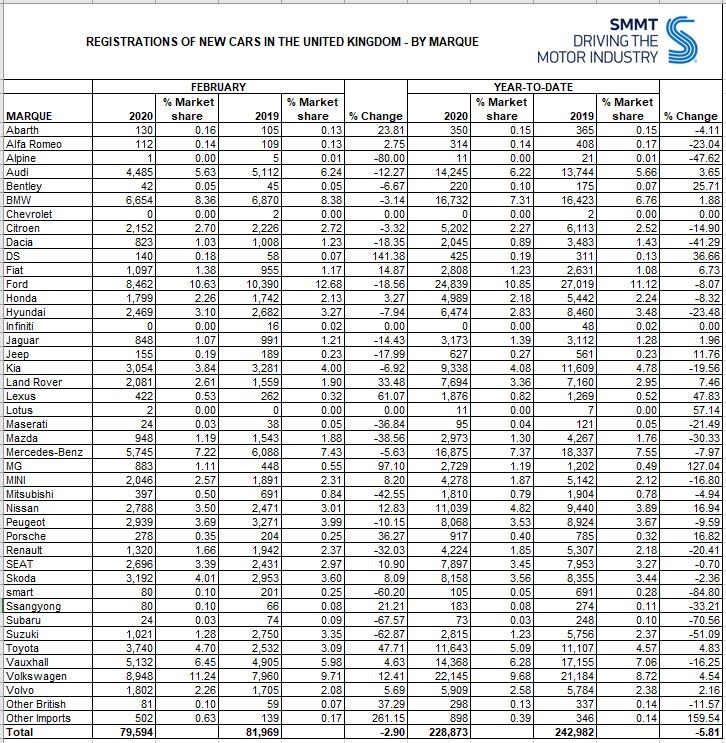 Korean brands Kia and Hyundai suffered declines of 6.9% (to 3,054) and 7.9% (to 2,682), respectively, meanwhile, to leave them 19.6% and 23.5% down YTD.
But while consumer demand, the shift towards new alternative fuel vehicle (AFV) product lines and the pressures of EU emissions regulations – potentially landing OEMs with huge fines for breaches of a 95g/km CO2 average from 2020/21 – played out, other brands did deliver significant growth.
In the month immediately prior to this March's key 20-plate introduction, MG Motor UK already looked to be on course to meet its "hugely ambitious" target of growing its UK volumes by 130% in 2020 with 97% growth during the month (to 883) as its YTD growth reached 127%.
Volkswagen, Toyota, Lexus and Nissan are among the other strong performers in the first two months of 2020.
VW has so far seen its volumes rise by 4.5% to 22,145 (2019: 21,184), while Toyota – named the greenest car brand of 2019 by Jato Dynamics earlier this week – saw its volumes rise by 4.8% to 11,643 (2019: 11,107) as sister brand Lexus has grown by 47.8% to 1,876 (2019: 1,269) YTD with the help of its new entry-level UX crossover.
Following a 10% decline in sales during 2019 (to 92,372), Nissan has grown its volumes by 16.9% so far in 2020, with 11,039 registrations (2019: 9,440) so far, no doubt bolstered by the introduction of the new Juke crossover.
Earlier this week Cazana director of insight, Rupert Pontin, predicted a 1.5% decline in new car sales during 2020.