Vertu Motors begun trials of thermometers to test for COVID-19 coronavirus at its showrooms as an MoT centre in Belfast started operations as an official virus test facility today (April 7).
The automotive retail and aftersales operations showed how seriously the sector is taking steps to adapt to the challenging new climate presented by the current lockdown of UK businesses and a future of trading beyond the outbreak.
Belfast's Balmoral MoT centre, off Boucher Road, will join the city's SSE Arena to become the city's second drive-through coronavirus testing service this evening.
The move comes days after AM reported on the assertions of VTS MoT compliance system MOT Juice founder, Barry Babister, that test centres were ideally-placed to be adapted to aid the national fight against the virus.
Babistser wrote to the DVSA's head of MoT policy, Neil Barlow, in an attempt to gain support for his proposal, and stated: "The reality of the situation is that through systems, technologies and locations, highly-skilled personnel and accessible locations MOT centres could viably help with COVID-19 testing."
MOT centres across the UK have been impacted by a six-month moritorium on testing introduced by the Department for Transport (DfT) last month an effort to maintain essential travel during the COVID-19 coronavirus outbreak.
Northern Ireland's Infrastructure Minister, Nichola Mallon, confirmed to the BBC that all DVA centres have now been released to the health department and each venue is now expected to be assessed to see if it is a suitable COVID-19 test centre.
Vertu Motor chief executive took to Twitter yesterday (April 6) to highlight the steps his business is taking to prepare for a a very different post-COVID-19 trading environment.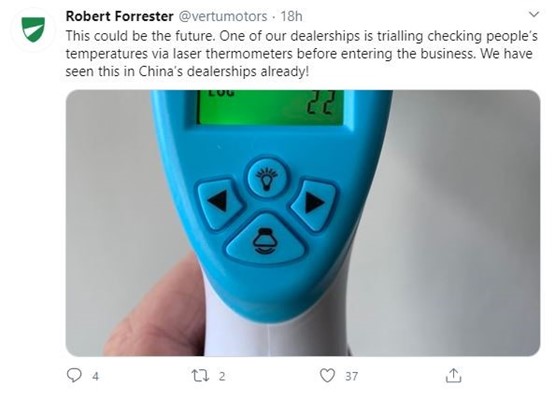 Posting an image of a digital thermometer, Forrester said: "This could be the future. One of our dealerships is trialling checking people's temperatures via laser thermometers before entering the business. We have seen this in China's dealerships already."
Taking to Twitter again today, Forrester indicated that Vertu's continued business, which includes supporting keyworkers across the UK from an aftesales perspective, was "stabilising".
He said: "Yesterday our business received 1,848 phone calls, up on last week, 1,314 key workers service bookings and took 214 internet sales enquiries."
Vertu has already been donating equipment to the fight against the coronavirus outbreak.
While its businesses continue to support keyworkers for aftersales purposes, Vertu joined Arnold Clark, TrustFord, Luscombe Motors and Umesh Samani's Specialist Cars operation in Stoke in delivering protective car seat covers to NHS workers.
Speaking of the demand for the items in an interview with AM, Robin Luscombe said: "The NHS haven't deemed them as vital equipment, but there is clearly a demand. When I handed mine over it was like I was giving them gold dust.
"I just wonder if other retailers with these seat covers might also be able to help other key workers in other parts of the country.
"At the moment they are doing a really tough job in challenging conditions and we should be helping in any way we can."