"This is not a recovery and barely a restart," warned SMMT chief executive Mike Hawes today as its data showed 145, 377 new cars were registered in June, the first month out of lockdown for car showrooms in England and Northern Ireland.
The result was 34.9% down on June 2019's market and the SMMT said "the lacklustre performance" plus 10 weeks in lockdown has left the UK market to date almost 616,000 units behind the same period in 2019.
It followed just 20,247 new car sales in May while retail premises were required to stay closed and the public were advised to stay home - some dealers continued sales remotely with home delivery.
The trade body claimed today that many of June's registrations could be attributed to customers finally being able to collect their pre-pandemic orders, and appetite for significant spending remains questionable.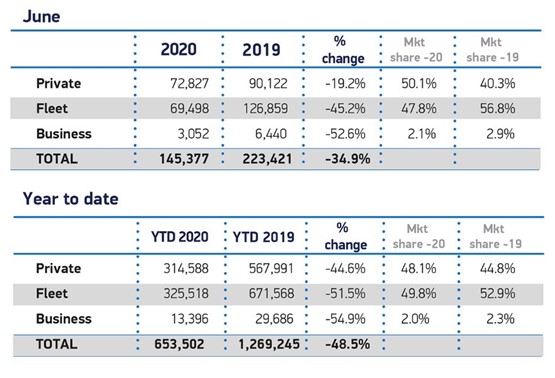 It claims the lost car sales have resulted in an estimated £1.1 billion loss in VAT receipts for HM Treasury.
"With one in five showrooms in England remaining shut throughout June, and those in Wales and Scotland unable to open until the end of the month, there remains some uncertainty regarding the true level of demand.
"The hoped for release of pent-up sales has not yet occurred, with consumer confidence for big ticket purchases looking weak meaning that automotive is likely to lag behind other retail sectors," said the SMMT.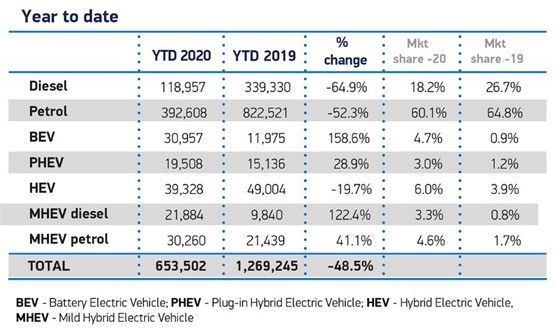 Hawes continues to call on UK Government to boost the economy and business confidence.
He said: "While it's welcome to see demand rise above the rock-bottom levels we saw during lockdown, this is not a recovery and barely a restart.
The government must boost the economy, help customers feel safer in their jobs and in their spending and give businesses the confidence to invest in their fleets. Otherwise it runs the risk of losing billions more in revenue from this critical sector at a time when the public purse needs it more than ever."
After Tesla's Model 3 held the best-selling model title during the two months in total lockdown, June's best-seller was the Vauxhall Corsa with 4,528 registrations, ahead of the Ford Fiesta with 4,386.
Auto Trader's commercial director Ian Plummer said its own data had suggested the market would bounce-back in the crucial month of June "and while we're still down by double figures year-on-year, the picture is by no means as bleak as it was in April and May".
A record 64 million cross platform visits on Auto Trader in June and 90% year-on-year uplift in leads sent to dealers showed "there is clearly consumer appetite for both new and used cars", said Plummer, who will join AM this afternoon on our first AM Motor Retail Review webinar (click here to register and view the webinar).
Plummer said one concern is that although sales of EVs are up, the adoption rate is still not rising fast enough to meet the government's target to ban petrol, diesel and hybrid vehicles by 2035.
"The current growth rate shows EV sales will overtake sales of traditional combustion engines by 2029, but we need to do this by 2024 to reach the government's ambitious target," he said. Many consumers are put off by the price premium, which needs to be addressed by suitable incentives, he said.
Lockdown showed motor retail that it must allow consumers the choice to do more online, and Plummer said it's more important now than ever before that retailers accelerate their digital presence and adopt an omnichannel retailing approach.
"Although consumers can now visit most retailers, 15% of consumers we surveyed are still wary about doing so and as many as 80% are open to completing the purchase online or over the phone and only visiting the retailer to pick up their car.
"By making the car buying experience easier and more aligned to the needs and expectation of buyers, it will no doubt help to bolster new car sales figures. Put simply, if stock isn't online it's not for sale.
He said signs point to a stronger outlook for the used car market – likely as people find alternative means to public transport – but more needs to be done to stabilise the new car market.
"A cohesive approach is needed by the industry and government to put more consumers behind the wheel of new cars by making the car buying process easier and incentivising new car purchases, particularly if we want them to take up greener alternatively fuelled options," Plummer said.
Sue Robinson, director of the National Franchised Dealers Association, said: "The -34.9% decline in new car registrations shows that pent-up demand helped sales during the first weeks, but the market will need to be monitored closely to support the sector over the coming months."
She said feedback from dealers suggests all customers are accepting the changes to standard procedures implemented in dealerships showing that business in showrooms is running safely and smoothly.