During May's coronavirus lockdown 12,900 new cars were sold to private buyers, according to data from the Society of Motor Manufacturers and Traders.
It suggests that there was a small level of success for franchised dealer groups after the Government clarified they could sell cars through 'click and collect' or home delivery, while their showrooms had to remain closed - until England's dealers could reopen on June 1.
The UK's new car market in May closed 89% down year-on-year at 20,247 registrations, 163,477 fewer than in May 2019.
It was an improvement over the April result, which was 97% down versus April 2019.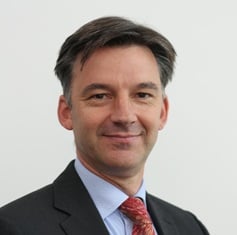 Mike Hawes, SMMT chief executive, said: "After a second month of shutdown and the inevitable yet devastating impact on the market, this week's re-opening of dealerships is a pivotal moment for the entire industry and the thousands of people whose jobs depend on it
"Customers keen to trade up into the latest, cutting-edge new cars are now able to return to showrooms and early reports suggest there is good business given the circumstances, although it is far too early to tell how demand will pan out over the coming weeks and months.
"Restarting this market is a crucial first step in driving the recovery of Britain's critical car manufacturers and supply chain, and to supporting the wider economy. Ensuring people have the confidence to invest in the latest vehicles will not only help them get on the move safely, but these new models will also help address some of the environmental challenges the UK faces in the long term."
The Tesla Model 3 was the UK's biggest selling new car in May, with 852 registrations. Its nearest rival was the Vauxhall Corsa, 62 units behind the Tesla.
The SMMT data suggests that fleet and private buyers willing to purchase remotely, through websites or by phone, are quite happy to commit to premium cars, as the Mercedes-Benz A-Class, E-Class and GLC-Class, BMW 1 Series and Volvo XC40 also accompanied the Tesla in the top 10 selling models under May's lockdown.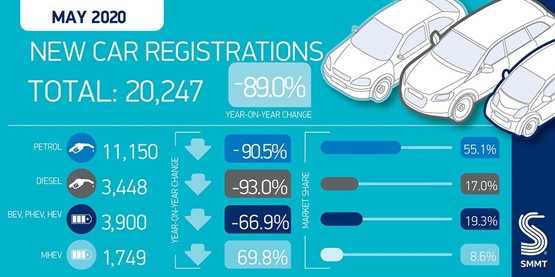 Online marketplace Heycar believes that even though some dealerships are now open in the UK there will still be disruption to the new car supply chain.
Its chief commercial officer Karen Hilton said customers looking for a new, factory-built order "are likely to face long delays", possibly as much as six months.
Heycar stated Ford has quoted 22-week lead times on a new Focus and 18 weeks on a Fiesta - both models which feature constantly in the UK's top 10 best sellers.
But many manufacturers and franchised dealers do have unregistered stock they need to sell in the weeks ahead.
Hilton said the used car market provides really attractive options for dealers and motorists, given that the stock of nearly new and pre-registered cars "is strong and much more likely to give the industry the quick shot in the arm that it needs".