Jato Dynamics said there are signs that "big issues need to be addressed" to ensure that Europe's automotive sector delivers a COVID-19 recovery following an 18% decline in August new car registrations.
Across the 27 markets analysed by Jato on a monthly basis, 881,897 new cars were registered last month – the lowest number recorded for August since 2016 – to leave the sector 33% down year-to-date (YTD) with 7,247,341 registrations.
The UK's 5.8% decline made it the seventh most successful market during August, as Lithuania and Italy were alone in delivering year-on-year (YoY) growth.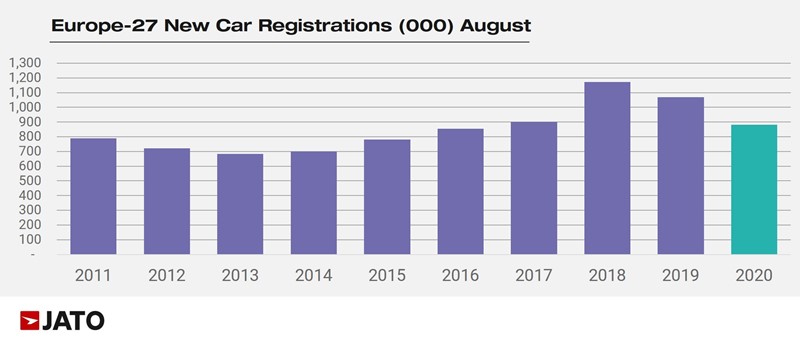 YTD, the market's performance is now the worst for a decade.
August's performance follows a 4% YoY decline during July, which had prompted hope of a -V-shaped COVID-19 recovery.
Jato's global analyst, Felipe Munoz, said: "We continue to say that it is still too early to talk about recovery and the results last month indicate that there are still big issues that need to be addressed in the industry.
"Fortunately, the larger drop seen in August was mostly caused by business/fleet registrations, as private registrations only fell by 4%. This is a good indicator that the situation is not as dire as it might seem."
European motorists bought 188,700 alternative fuel vehicles (AFV) in August as the positive trajectory of electrified vehicles for continued to be one of few positives taken from Jato's data.
AFV sales volumes increased 121% YoY, representing 21.4% of total registrations – a new record for the industry.

Hybrids accounted for 49% of AFV total registrations in August, with their volume increasing by 86% thanks to the mild-hybrid technology now offered by Ford, Suzuki and Fiat.
Pure electric cars accounted for 48,800 registrations, an increase of 111%, with growth driven by Renault (+112%), Hyundai (+107%), Volkswagen (+97%) and Kia (+397%) as they make up ground on Tesla, which grew by 11%.
Plug-in hybrid electric vehicles (PHEV) found 44,700 new customers, with registrations up by 283% with premium brands and the new Ford Kuga – recently impacted by a recall – among the key successes.
SUVs accounted for four-in-10 new passenger vehicles registered in August (358,100 units) – a decrease of 12%.
Jato observed that the decline in SUV registrations had come in sharp contrast to the 20%, 35%, or 44% decrease posted by midsize cars, city-cars and MPVs.
The most successful models were the Peugeot 2008, Renault Captur and Volkswagen T-Roc as the smallest SUVs totalled 147,000 units, down by 13% from August 2019.
Compact SUVs registered 144,700 units, down by 9% over the same period, with the Volkswagen Tiguan leading the way despite a decrease of 19% in registrations.
Overall, the Volkswagen Golf emerged as Europe's biggest selling car, with 22,400 units.
Jato reported that French OEMs PSA and Renault were able to position six of their models in the top 10, leaving just four positions for German products, however.
Munoz said: "We usually see a monopoly of German models in the top 10. The current outbreak is presenting a new opportunity for dominance in the market, demonstrating more consumer appetite for small French vehicles than previously witnessed."
Outside of the top 10, the Ford Puma secured 16th position with 11,300 units – gaining the highest market share during August – while the Kia Niro, boosted by its new electric model, recorded growth of 107% year-on-year to finish August as the 29th best-selling vehicle, with 7,900 units registered.
The BMW 1-Series registrations rose by 96%; Mercedes GLC saw an increase of 64%; Renault Zoe was up by 113% and Volvo XC40 rose by 82%.