Mazda UK sales director Peter Allibon has said that 2020 new car registrations forecasts have had to rely on some "fairly major assumptions" on what can be achieved by retailers before the end of the year.
Speaking to AM, Allibon said that he had still had to create registrations and wholesale estimates for the period through to next March for the Japanese manufacturer, despite the COVID-19 coronavirus lockdown, admitting: "It's been no mean feat."
Like many other manufacturers, the brand had been left with large inventory of undelivered stock in compounds, and Allibon said: "We've had to make some fairly major assumptions on how much of that March, April, May stock we're able to get through and how the market recovers between now and next March."
Allibon's submitted predictions for Mazda's 2020 performance currently detail a 36% registrations decline, which amounts to around 14% on the brand's fiscal year basis.
Last year Mazda's UK registrations totalled 40,148, up 1.4% on 2018's 39,602, according to Society of Motor Manufacturers and Traders (SMMT) data.
COVID-19 support
Mazda was quick to move to support its 124 franchised retailers when the automotive retail sector received word of the Government's COVID-19-enforced lockdown on March 24.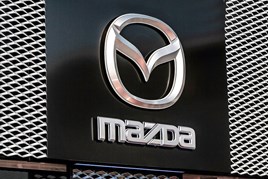 Among the actions it took were measures designed to mitigate retailers outgoings, including: a suspension of dealer targets in Q2; the suspension of wholesale funding for a further 120 days, with any new vehicle gaining 480 rather than 360-day funding; a stop on wholesaling vehicles mid-way through March (they currently sit on Mazda inventory); a freeze on payments for dealer websites or its academy through to June.
"All these things helped us avoid any awkward conversations", said Allibon.
Allibon told AM that there "will be casualties" as a result of the enforced lockdown of the car retail sector, adding: "Our aim is to offer all the assistance we can to ensure our retailers emerge out of the other side."
But he said: "The difficulty from most businesses will come when we're coming back and they have to start paying rents, wages and potentially VAT rebates."
'Emotions running high'
The pressure on the Mazda UK business itself has also been intense as it funds a large inventory of stock that would have normally headed straight to its dealer network, however.
"Our business is about building and wholesaling," said Allibon. "At the moment we're building few and wholesaling none. It's a big drain on cash for us.
"Our immediate response has been to support the dealers, though, because we need them. They are our lifeblood. But there comes a point where we need to reactive things."
Allibon acknowledged that some OEMs have been pressuring dealers to bring furloughed staff back into the business before a point at which they might feel comfortable and suggested this was something that Mazda was keen to avoid.
"I'd rather be starting that bit later and not have a false start that means my network have unfurloughed staff that then become a burden on them," he said.
"I think emotions are running very high. Dealers are rightly very concerned for the financials of their businesses and we'd like to see a partnership with OEMs which ensures they are supported as much as possible.
"Many manufacturers were great in their initial response and some, perhaps, are now wanting to get things going again quicker than may be ideal."
Allibon said that he had been liaising with logistics operators to be sure what state cars would arrive at Mazda retailers in and he recommended leaving a vehicle for 72 and wearing full PPE upon first contact.
The brand has also asked its dealers to fill in a check list of the health and safety measures they have put in place so that it can deliver "a Mazda Promise" that Government guidelines are being adhered to and that you should still be safe when you enter a Mazda showroom.
Doing things the Mazda MyWay
Allibon said that the COVID-19 crisis' effect of shifting consumers towards home delivery services meant that the brand was now pushing to roll-out its Mazda MyWay home test drive offering to its wider network sooner than it had previously planned, suggesting the programme could become a "huge selling point".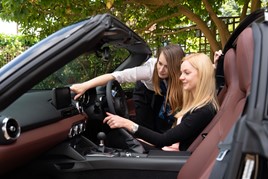 He said: "The scheme had obviously been trialled in London and we had plans to roll it out across to a wider number of retailers in our next fiscal year.
"Home delivery is hugely topical right now and we really want the offer to be something we can now promote nationwide through our marketing communications, so it's become something that we are hoping to drive sooner as a matter of priority."
Allibon said that the pilot of the MyWay offering had found that most people wanted to collect their car from a showroom, with very few opting for home delivery.
However, he added: "The current situation has changed everything. We can't afford to look back at how things have worked in the past.
"We'll be looking to support home deliveries. Many retailers will argue that a handover in the controlled environment of a showroom is the far safer solution, but we have to remain mindful of what our customers want to do."
Scrappage could get buyers to 'act now'
Suzuki GB head of Automobile, Dale Wyatt, recently spelled out his support for a CO2-reducing vehicle scrappage scheme to help support the automotive retail sector's recovery and Allibon shared his opinion that a Government-backed stimulus is needed.
In the latest digital edition of AM Magazine, Wyatt gave his support to a scrappage scheme format voiced by the ICDP in its in its 'clean cars for a post-COVID recovery' report last month.
That report said that such a scheme was needed in order to avoid a perfect storm of stalled sales and soaring fines from stringent new EU regulations driving carmakers 'to the edge'.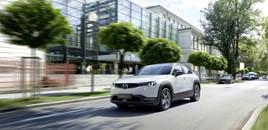 Mazda is set to welcome its first full electric vehicle (EV), the MX-30 crossover, tomarket in Q1 next year, and Allibon said: "I think the whole slowdown is clearly going to slowdown what all manufacturers felt they were going to deliver in terms of CO2 reduction.
"It won't really affect us at all, though. Our product mix is stable and probably leans towards the lower emission cars anyway.
"I think all manufacturers would welcome a customer incentive, whether that's in the form of a scrappage scheme or a government grant.
"It might just give people the incentive they need to think 'I'll not wait until all this is completely over, I'll act now'."
Asked to what extent OEMs might be able to boost the market through sales incentives, Allibon said: "In reality any manufacturer-led offer is not going to come close to the incentives that could be offered through a government scheme."