The UK's franchised car retailers have been praised for their ability to adapt and meet the challenges of the COVID-19 pandemic after the SMMT reported a 29.4% decline in new car registrations during 2020.
Reacting to the Society of Motor Manufacturers and Traders' (SMMT) latest registrations data this morning (January 6), National Franchised Dealers Association (NFDA) chief executive, Sue Robinson, said that the sector's efforts had mitigated the impact of the pandemic, adding that it was "well placed for growth" despite this week's return to lockdown.
SMMT data showed that the UK new car market saw a 10.9% decline in registrations during December, with 132,682 units registered, as the market ended 2020 having completed the registration of 1.63 million units – the lowest total since 1992.
The SMMT said that the 680,076-unit decline was equivalent to £20.4bn in lost turnover.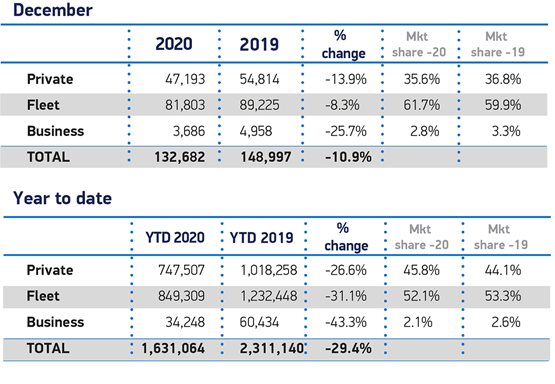 But the figures came against the backdrop of a pandemic which brought about the near-three-month closure of showrooms from March and a second lockdown in November.
Robinson said: "Although physical showrooms must remain closed over the coming weeks, franchised dealers have demonstrated their ability to adapt, providing 'click and collect' services to customers in a safe and compliant manner.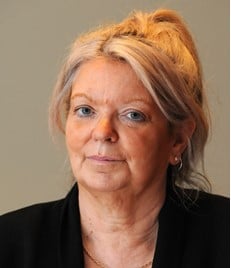 "This cannot fully replace the traditional buying experience but will offset some of the issues facing businesses over the coming months.
"Overall, 2020 was a difficult year and the recently announced third national lockdown will be challenging for franchised retailers.
"However, in the longer term the signing of an agreement with the EU, the shift to EVs and the resilient nature of franchised dealers mean they are well placed for growth."
Green recovery
Pure electric vehicle (EV) sales rose by 343.7% during December and 185.9% in 2020 as a whole as plug-in hybrids (PHEV) grew by 103.3% last month and 91.2% over the twelve months.
According to the SMMT's data, Tesla's Model 3 ended the year on a sales high as the UK's best-selling vehicle (5,798) in what was the UK's best-ever year for electric cars with battery and plug-in hybrid vehicles market share up to 10.7%.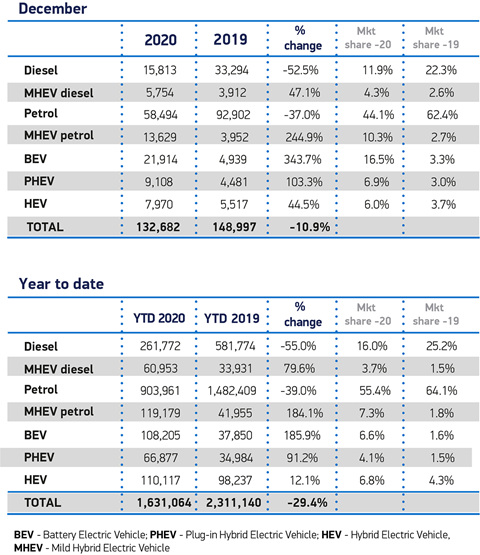 Diesel-fuelled vehicles saw a decline of 55.5% and petrol was down 39% across the whole of last year, however.
The SMMT said that private vehicle demand had fallen 26.6% across 2020, amounting to a £1.9bn loss of VAT to the Exchequer, while there was a 31.1% fewer vehicles joining large company car fleets.
All segments bar specialist sports (up 7%) declined, with superminis, retaining a 31.2% market share despite a 25.9% decline.
Commenting on the 2020 registrations data today, SMMT chief executive, Mike Hawes, said: "2020 will be seen as a 'lost year' for automotive, with the sector under pandemic-enforced shutdown for much of the year and uncertainty over future trading conditions taking their toll.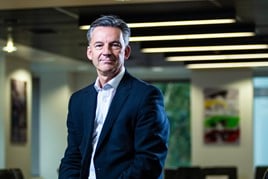 "However, with the rollout of vaccines and clarity over our new relationship with the EU, we must make 2021 a year of recovery.
"With manufacturers bringing record numbers of electrified vehicles to market over the coming months, we will work with government to encourage drivers to make the switch, while promoting investment in our globally-renowned manufacturing base – recharging the market, industry and economy."
Supplier comment
Auto Trader commercial director said that the UK car market was likely to recover to a market of over two million registrations in 2021.
Highlighting the increase in consumer interest in alternative fuel vehicles (AFV), coupled with a plethora of new models now available, he said: "If we were to see this continued level of uptake in EVs then we anticipate that sales of new EVs and plug in hybrids will overtake diesel cars in 2021, and then pure EVs will overtake those of their internal combustion engine counterparts in 2026."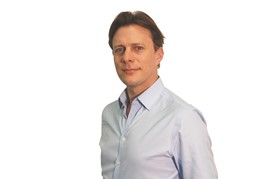 "As we look ahead to 2021, notwithstanding negative dents to sales from the current and any further national lockdowns, data suggests that sales will bounce back to circa two million levels.
"Although not as high as we saw in 2019, we certainly aren't expecting levels to dip down to what we saw during the global financial crisis.
"Consumer confidence levels, historically the key driver of the new car market, remain relatively strong as does the availability of good credit options, which bode well for the new car market."
Karen Hilton, chief commercial officer at heycar, praised the resourceful ness of the used car sector in making her observations of 2020's registrations performance.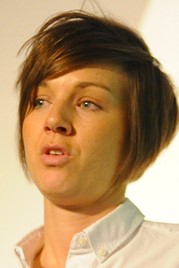 Hilton said: "In the grip of its biggest crisis in generations, dealers have responded impressively - finding new and innovative ways to engage with customers by upping their game in the digital arena.
"Getting stock online, offering video viewings and free delivery as well as enabling more people to complete more of their buying journey from home all helped compensate for significant interruption to business from March onwards when the first nationwide lockdown was imposed.
"A welcome consequence of that is that many dealerships now have the online infrastructure and vital knowhow to operate virtually, allowing them to continue to engage and sell to customers."
What Car? editorial director, Jim Holder, agreed, stating that the lessons of a tough 2020 ensure that UK automotive goes into 2021 "better prepared for the challenges it now faces".
"While nobody will be celebrating 2020's figures, it is a testament to the resilience and adaptability of the industry and its workforce that there are reasons for optimism despite the repeated challenges, including the latest lockdown," said Holder.
He described the rapid digitalisation of the sector as a "cause for optimism", adding: "Since March, manufacturers and retailers have invested significantly in virtual showrooms, online sales portals and other live retail packages.
"The measures put in place last year, combined with fast-evolving consumer expectations, will help the industry endure the coming weeks as showrooms once again fall silent, mitigating the impact of the ongoing pandemic."