The UK Government's COVID-19 'Lockdown 2' took a £1.3 billion toll on car sales during November as registrations declined 27.4%, according to the Society of Motor Manufacturers and Traders (SMMT).
SMMT chief executive, Mike Hawes acknowledged that franchised car retailers had entered the renewed coronavirus mitigation period "better prepared" than they did the devastating H1 lockdown, with a total of 113,781 new cars ultimately registered via 'click and collect' and home delivery.
But he welcomed the re-opening of COVID-secure showrooms on December 2 after counting the toll of limited trading, with the UK's new car registrations now 30.7% down year-to-date – equivalent to 663,761 units.
Hawes said: "Compared with the spring lockdown, manufacturers, dealers and consumers were all better prepared to adjust to constrained trading conditions.
"But with £1.3bn worth of new car revenue lost in November alone, the importance of showroom trading to the UK economy is evident and we must ensure they remain open in any future COVID restrictions.
"More positively, with a vaccine now approved, the business and consumer confidence on which this sector depends can only improve, giving the industry more optimism for the turn of the year."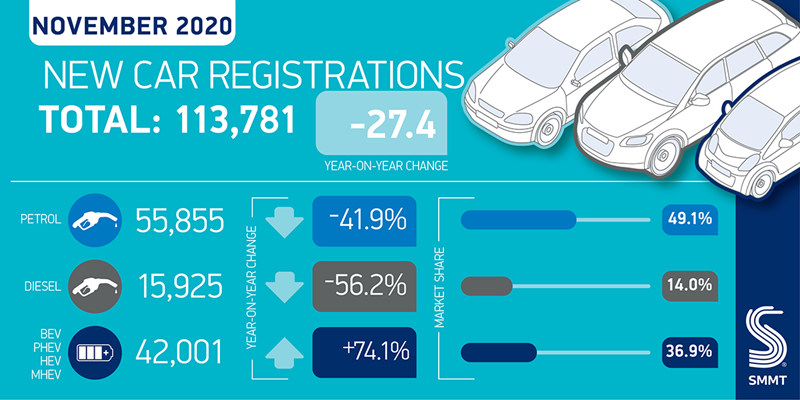 The SMMT said that November's registrations total had taken the car retail sector back to levels last seen during the 2008 recession.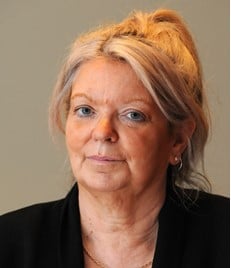 Commenting on November's year-on-year November decline in registrations of 42,840 units, National Franchised Dealers Association (NFDA) chief executive, Sue Robinson, said: "It is encouraging that this was a far stronger performance than the spring lockdown as dealers were better prepared for 'click and collect' retail for their customers."
Private demand fell by 32.2% during November as fleet registrations declined by 22.1%.
Electric vehicle (EV) and plug-in hybrid vehicles (PHEVs) continued to grow significantly, however, up 122.4% and 76.9% respectively in November.
BEVs recorded their 'third highest ever monthly share of registrations at 9.1% as petrol declined 41.9% and diesel 56.2%.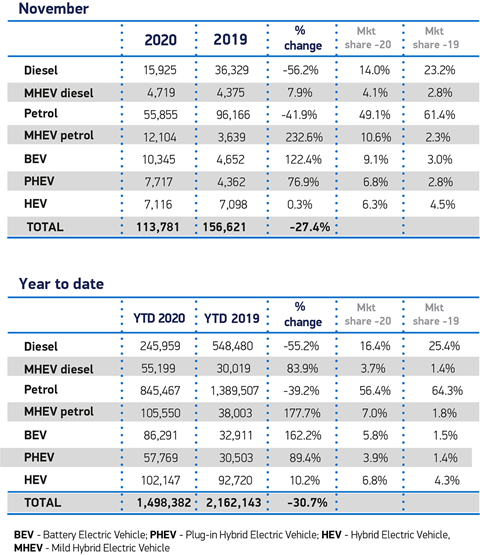 Robinson said: "The significant, sustained growth in the electric vehicle sector is positive, especially given the challenging 2030 deadline to end the sale of internal combustion engine cars.
"Dealers continue to work hard to meet consumer demand, as the uptake of our Electric Vehicle Approved (EVA) accreditation scheme demonstrates, but it is important that businesses and customers continue to be supported during this transition.
"Going forward, as the sector focuses on the transition to zero emission, it is vital that the Government reaches a trade deal with the EU that avoids tariffs on vehicles and vehicle parts to not undermine the stability of the automotive sector, which employs over 800,000 people in the UK.
"The first few days of the month have been busy with pent-up demand driving sales and franchised dealers are looking forward to a buoyant December as the UK emerges from lockdown."
Porsche Cars GB - hard hit by the RDE roll-out towards the end of 2019 - was the only car brand barring smart to register sales growth last month.
The German sports car brand's registrations rose 16.7% to 2,216 units.
The story was similar at fellow Volkswagen Group brand Audi, where sales declined by a relatively small 9.3% to 8,519 units.
Volvo showed resilience with a 4.29% decline, to 4,018 units, while Nissan dipped just 4.13% on the back of steadily declining sales in recent years, to 5,598.
Toyota's retailers also managed to outpace the market with a registrations dip of 18.8%, to 5,071 units, meanwhile.