With the dust still settling on the Brexit deal, it's worth looking at how some of the big volume brands in the UK are setting out their stall for 2021.
Ford is continuing, as expected, with its 0% APR offer and it is also offering deposit contributions of £1,000 on popular models like the Fiesta and Focus.
When looking at Ford's offering quarter-on-quarter, there have been some slight tweaks to models like the Fiesta, Focus and Puma to make them slightly more affordable in 2021 by up to £30 per month.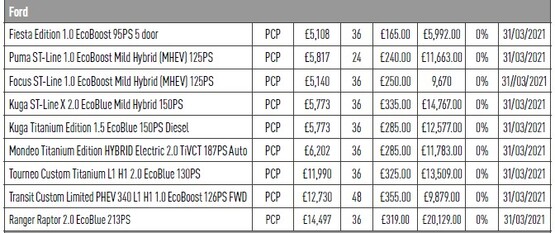 Volkswagen has slightly reduced its APR rate on its representative examples across the majority of its models from 5.4% down to 4.9% in Q1. The lone 0% deal is for the Touareg SUV, which also comes with one of the deposit contribution discounts at £4,250 off.
There are deposit contributions across VW's PCP offers, with £1,250 off popular models like the Golf, £1,500 off the Polo and up to £1,600 off its crossover SUV models like the T-Cross and T-Roc.
The average deposit contribution for VW's range in Q1 is £1,500.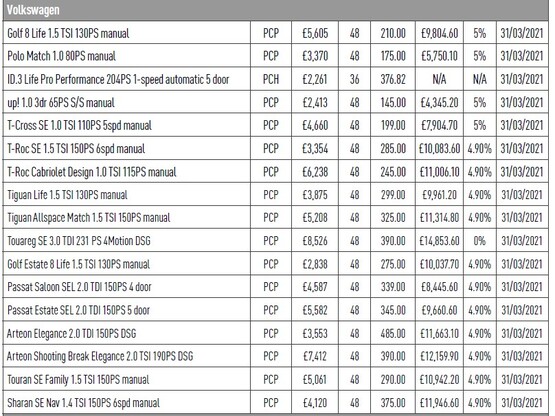 The new ID3 electric vehicle is only available through a personal contract hire (PCH) deal, but it makes access to VW's latest EV affordable at £376.82 a month.
BMW's offers are available at 2.9% APR across its range, continuing its strategy from Q4 2020.
There is some big discounting across BMW's range, averaging out at £5,579, ranging from £821 on a 1 Series to as much as £21,796 on the 745e hybrid saloon.
BMW was one of the manufacturers that said it would be increasing prices in 2021 regardless of whether there was a trade deal in place between the UK and EU.
This article first appeared in the February Issue of AM magazine, published here.
It appears those increases have been introduced when comparing quarter-on-quarter, going from an average monthly price for a BMW of £477 in the last three months of 2020, to £564.08 or £87 per model on average in Q1 this year.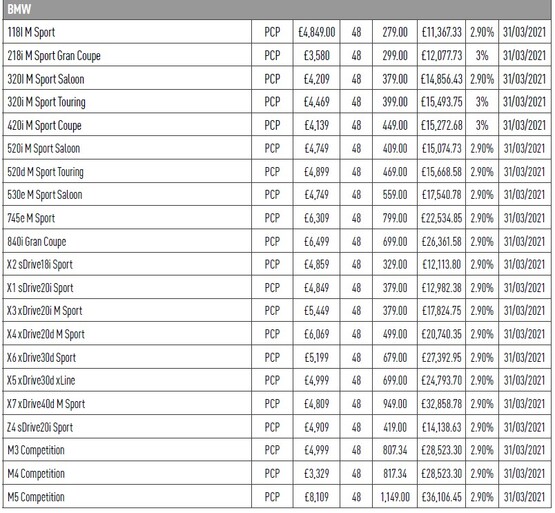 It was revealed by AM sister-publication Fleet News in November that the i3 EV would get a £3,000 customs duty-related increase.
The i3 can be bought on finance at the same 2.9% APR rate, but there was no representative example information on BMW's website when AM went to press, with customers instead directed to enquire at their local dealership.
Full details of how vehicle pricing and finance offers will be affected will likely be revealed over the next few months.
Retailers will hope price increases won't further negatively impact already fragile consumer confidence ahead of the all-important March plate change.
AM will be tracking what happens to average monthly finance offer pricing, percentage APRs and deposit contributions as we get further into Q1.
Stephen Haddrill, director general of the Finance and Leasing Association (FLA) said, that as always with trade talks, the devil will be in the detail. But he is cautiously optimistic about what the Brexit trade deal could mean this year.