A report compiled by Jato Dynamics has laid bare car manufacturers' ongoing challenges in meeting the EU's stringent CO2 targets for new cars – despite a 12% drop in average emissions in 2020.
In a year that saw the average CO2 emissions of new car pegged back to 95g/km limit, with stringent fines resulting from the majority of cars sold above that level, just six of the 21 new car markets analysed by the automotive intelligence provider recorded emissions averages below 100g/km.
According to data collected by Jato Dynamics in 21 countries across Europe, the volume weighted average CO2 emissions (NEDC) of vehicles registered in 2020 was 106.7 g/km – 12% lower than the average recorded in 2019 and the largest drop to date.

But OEMs will have to ramp-up their efforts to meet the new 95g/km limit if they want to reduce fines levied by the EU.
OEMs breaching the limit will be fined €95 (£84) per car sale, per gram of CO2 over the limit, and an insight feature in AM recently cited PA Consulting data which suggested some face fines amounting to billions of pounds.
In January Volkswagen Group revealed that it faces a fine of over €100 million (£89m) after it "narrowly missed" its EU CO2 emissions targets for 2020.
Despite the urgency of the situation, Jato global analyst, Felipe Munoz, said: "Although the industry still needs to do more to meet the European Commission's' CO2 targets, manufacturers have demonstrated significant progress with their range and sales in 2020."
A Jato-compiled ranking of the average new car CO2 emissions across Europe in 2020 saw Toyota and the PSA Group faring best, with emissions of 97.5g/km and 97.8g/km, while Subaru and Jaguar Land Rover (JLR) looked well off the pace with averages of 155.3 and 147.9gkm.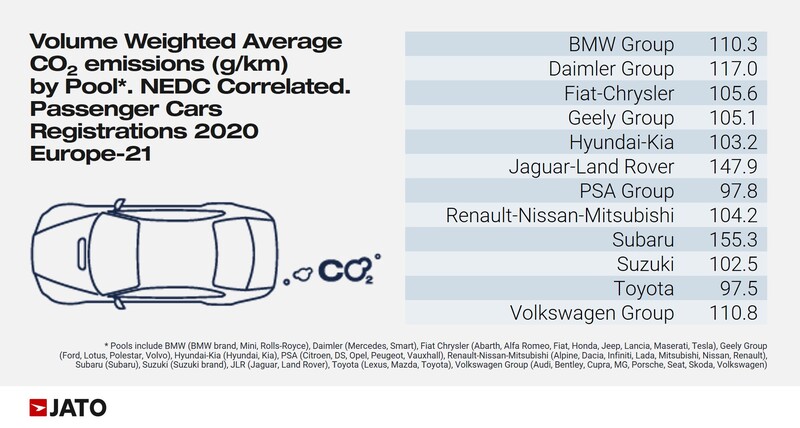 Jato's data showed that registrations of pure electric and plug-in hybrid vehicles totalled 1.21 million units last year – 10.6% of the total market.
In 2019 alternative fuel vehicle (AFV) sales in the same markets totalled 466,000 units, accounting for just 3.1% of total registrations.
Jato said that the COVID-19 pandemic has supported the growth in sales of EVs across Europe, with some governments creating new purchase incentives.
In contrast, the UK Government announced its move to cut its plug-in car grant from £3,000 to £2,500 last month, reducing the cap on eligible vehicles from £50,000 to £35,000.
The UK was not one of the European countries to reduce the CO2 emissions of its new vehicles below 100g/km in 2020, with its average CO2 emissions standing at 106.2g/km, according to Jato.
The countries that did were: Netherlands, Denmark, Portugal, Sweden, France and Finland.
Slovakia, the Czech Republic and Poland registered the region's highest CO2 averages and recorded low levels of EV penetration.
Across Europe, petrol and diesel-powered car sales fell from 14.7m in 2019, to 8.6 million last year.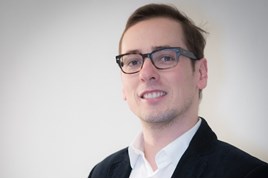 Munoz said: "In a year when millions of potential buyers were not allowed to leave their homes, it is notable that total average emissions decreased by 15g/km.
"It signifies a fundamental change to our notion of mobility and a greater appetite for sustainable options."
SUVs remained the key segment for new car sales growth last year, Jato said, easing the impact of a fall in sales across traditional hatchbacks, sedans, MPVs and wagons.
SUVs accounted for 40% of all passenger cars in 2020.
They also posted the best results for average reduction to emissions levels, however.
According to Jato's data, SUV emissions fell by 16.2g/km between 2019 and 2020 in part due to the improved range of PHEV and BEV midsize, and large SUVs now available.
On average, an SUV produces 18% more CO2 than traditional cars, it said, and even the smallest SUVs produce larger average emissions than executive cars.
Munoz said: "More often than not, SUVs tend to be heavier than hatchbacks and sedans, meaning fuel consumption is higher. That said, they are now the next target on the list for electrification and we will undoubtedly see more progress in the coming months".