Car manufacturers are looking at model rationalisations, reduced trims and increased co-operations in a bid to comply with clear air targets. Tom Seymour reports...
Retailers can expect further rationalisation of model ranges, variants, trims and engines this year as carmakers look to meet the challenge of emissions regulations.
The Clean Air For Europe (CAFE) programme was phased in from last year, where 95% of a vehicle manufacturer's fleet needed to emit below 95g/km CO2.
From 2021, the average emissions of all newly registered cars of a manufacturer now have to be below that target.
OEMs breaching the limit will be fined €95 (£84) per car sale, per gram of CO2 over the limit, with companies like Volkswagen Group facing as much as €4.5 billion (£4bn) in fines, based on predictions by PA Consulting (see graph).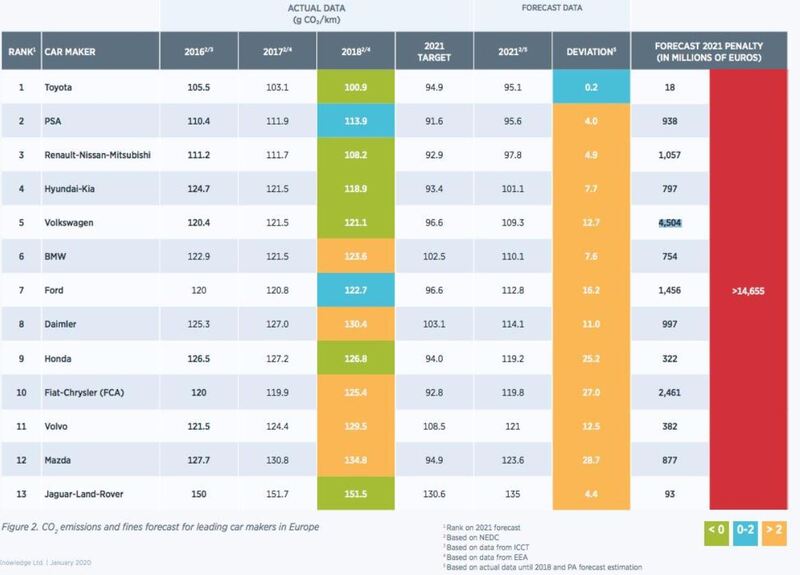 Total fines across all OEMs could be as much as €14.6bn (£13bn). So, while there are deadlines from individual governments, like the UK's 2030 ban on the sales of new petrol and diesel vehicles, the threat of heavy CAFE fines is also driving changes in the way OEMs are structuring their model ranges.
Importantly, as the UK is no longer in the EU, OEMs will not be able to meet their average UK CO2 targets using sales in the EU.
The UK fleet is much more focused on larger SUVs and crossovers compared with smaller city cars favoured in the EU, so, therefore, moving from the EU fleet average to a UK-specific value would immediately make regulatory targets more demanding for all manufacturers.
This could make it more difficult for OEMs to justify having higher polluting models on sale in the UK compared with the EU, which would drive further model reductions.
Michael Schweikl, former automotive specialist at PA Consulting and now head of international business management services at retail consultancy KPS, says: "Toyota is still in the lead on CO2 but it doesn't really have a battery electric vehicle (BEV) strategy.
"It will be interesting to see if it is still in a leadership position on CO2 over the next few years."
Schweikl was the author of PA Consulting's CO2 report and said that, while Tesla is still one of the top players for BEV, it is focused on the premium sector with no truly mass-market model.
He says: "Other OEMs are bringing products to market that will compete for BEV dominance."
Manufacturers that are better positioned with their CO2 average can earn "super-credits" for each vehicle they sell that has CO2 emissions below 50g/km.
These credits can then be sold to the highest bidding rival manufacturers to redeem against their own CO2 average.
SUPER-CREDIT REDUCTIONS
However, the Department for Transport (DfT) will be reducing the amount manufacturers may benefit from the use of super-credits by 50% this year and next.
The exchange of credits is a short term fix while carmakers can't comply on a standalone basis – given the time it takes to launch a model range with lower emissions and to drive demand from within their customer bases to switch to electric vehicles (EVs).
More and more plug-in vehicle products have been introduced over the past 12 months, but this alone won't be enough for some manufacturers.
There will also be a reduction in complexity with model ranges with the number of variants, engines, options and trims reduced to help meet targets.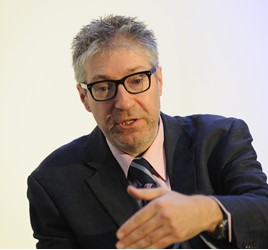 David Bailey, professor of business economics at the University of Birmingham's Business School and senior fellow at the UK in a Changing Europe programme, told AM: "The tough new regulations will add to a 'big squeeze' taking place in the industry.
"With cashflows hit by COVID, auto firms are now having to invest huge amounts on a raft of new technologies. So much so that scale is seen as increasingly important for car firms.
"We'll see much more in terms of industry mergers, joint ventures and rationalisation as carmakers look to cut costs to invest in the new technology needed to meet emissions targets."
Lee Swinerd, KPMG managing director, business advisory, says there are also other factors influencing rationalisation, including an over-capacity in the market and COVID-19-related capacity issues.
He says: "These have each contributed to manufacturers reshaping their model offerings, and many OEMs now see the benefit of rationalising ranges to improve profitability."
FURTHER RATIONALISATIONS
Most OEMs have rationalised model ranges over the past 12-18 months, with diesel engines in smaller vehicles being removed as an option (like the ever-popular Ford Fiesta), as well as larger engines being dropped for SUVs like the C5 Aircross, Peugeot 3008 and DS 7 Crossback.
Some manufacturers have gone on record to prepare retailers for further product culls.
Mercedes-Benz parent company Daimler has already announced back in October 2020 that it is aiming to cut 20% of its operational costs by 2025 by reducing its model range and pushing towards EVs.
Renault confirmed its own rationalisation plans in its "Renaulution" programme in January of more than a 20% cut in production capacity, down to 3.1 million cars from more than four million cars worldwide.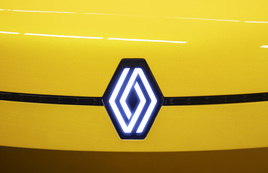 Renault's platforms will be reduced from six to three with 80% of group volumes based on three Alliance platforms. Powertrains will be cut in half from eight to four.
Ian Plummer, Auto Trader commercial director, says: "The rebalance of supply and demand means some brands can focus on keeping a better balance of low CO2 sales as well as higher sales of more profitable models instead of a push to register sales units irrespective of the above.
"As for the rest of their ranges, provided a given right hand drive model has been developed and the costs have been 'sunk', it can be sold in small, but profitable, volumes without the same need for volume 'push'."
It's unlikely higher CO2 niche models will totally disappear this year at least, so long as they are sold in small volumes. This also means there is no incentive to reduce the price for these models to drive demand.
Schweikl says: "There will be further reductions in variants produced so, instead of a coupe, a saloon and cabriolet, OEMs will focus on the strongest selling variant.
"If you're selling below 10-15,000 units of a particular variant, they will have to go. We'll continue to see niche models in the sports and premium segments, but the quirkier products for the volume players will disappear."
FINES AND FUNDING
Schweikl says the EU will likely publish the latest CO2 figures for each OEM by "early Q2".
It will be later in the year when there is a clearer picture of the level of fines each manufacturer will have to pay.
There is still no official policy on what happens with the money from those fines. It has not yet been decided whether funds will go to each country's government or to Brussels.
According to Schweikl, the money from fines has also not yet been specifically earmarked to be spent on improving air quality or on CO2 reduction.
He adds: "Our expectation before COVID, was most OEMs, particularly in the premium segment, would continue selling large vehicles and bigger engines, while slowly adapting to a hybrid model for those segments.
"However, the pandemic has made it more difficult to predict the very latest CO2 numbers because we really don't know how sales are going to develop this year."
He said strategic moves like the FCA, PSA and Vauxhall merger to create Stellantis would see its position improve this year. This is due to a stronger small car line-up across the brands and its EV strategy.
EVS WILL BRING MODEL CUTS ELSEWHERE
Plummer says: "Many brands are bringing alternative fuel variants of existing models to market, which instantly increases the complexity of their range and requires them to rationalise elsewhere.
"It almost certainly leads to fewer options that those brands can realistically afford to sell across that same variant, as well as the need to reduce the range by removing whole models that won't provide this same boost of low CO2 variants."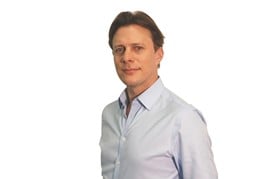 Plummer said that, given the strong decline of diesel sales overall (down 55% in the UK last year), where models were previously dependent on diesel variants for a large proportion of their sales, it will make economic sense for brands to pull models from sale earlier than planned.
He said: "As well as this broader decline in consumer appetite for diesel, the overall drop in company car sales and the strong incentivisation towards EVs, we can expect the decline of the traditional 'motorway cruisers', usually C-segment saloons, will only accelerate."
Overall, Plummer thinks a greater degree of standardisation in specification could be a positive for both dealers and customers in the long run, making the buying process easier, efficient and more profitable as a result.