Hybrids are emerging as the growth fuel type among used car buyers researching their next vehicle purchase online, according to research from Buyacar.
But despite setting out with an intention to adopt electrification in their personal transport, most still opt for the cost savings presented by petrol or diesel internal combustion engine (ICE) cars, it said – even in cities with plans ultra-low emission zone (ULEZ) plans.
Buyacar analysed search data from city regions across the UK, comparing May 2020 to May 2021.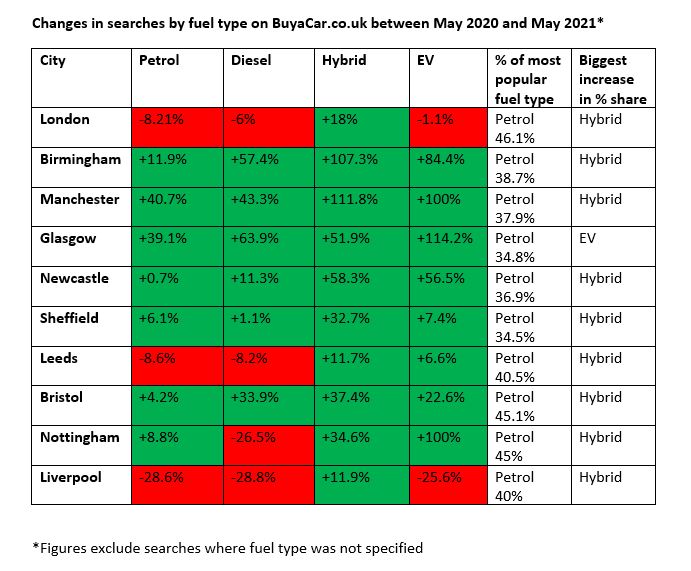 It found that petrol is still the go-to fuel choice everywhere, maintaining a share of searches ranging from 34.5% for searches by Sheffield motorists to 46.1% of Londoners.
But hybrids have seen the biggest increase in search-for-fuel-type share everywhere except Glasgow – where electric vehicles (EVs) have risen most.
Hybrid is the only fuel type to have seen an increase in searches across the board – ranging from an 18% rise in London to 111.8% in Manchester.
Buyacar's data from last month reflects that reported by Indicata this week.
Its data, reported by AM yesterday (June 21), indicated that sales of used hybrid models grew by 8% in May – the same as petrols - while the stock turn of hybrids was up by 24% in the same month.
Despite the surge in demaned, however, Buyacar said that limited supply was hampering hybrid sales conversions, with sales accounting for just 0.5% of sales on BuyaCar.co.uk in May 2020, jumping to 4.2% last month.
BuyaCar.co.uk editor, Christofer Lloyd, said: "This unique analysis opens a window on the initial intentions or hopes of online used car customers, while our actual sales data reveals that what they eventually decide to buy is almost always different.
"While it's easy to suggest that the way to boost hybrid sales is an increase in choice along with greater availability, we cannot ignore the fact that the current market is facing unprecedented challenges in supply across the board.
"There are simply not enough cars of any type to meet demand in this fast-recovering used car market, which means that a sufficient boost to hybrid supply remains somewhere over the horizon."
Searches for diesel cars have increased more than for petrol models in recent ULEZ adopter Birmingham, Manchester, Glasgow, Newcastle and Bristol.
Buyacar said that online searches for used EVs vary more widely than for any other fuel type, ranging from a reduction of 25.6% in Liverpool to doubling or rising by even more than that in Nottingham, Glasgow and Manchester.
What Lloyd described as the "volatility in EV searches" appeared to follow no particular pattern.
He said: "With the exception of Glasgow and Nottingham, the increase in searches for EVs is still outstripped by those for hybrids.
"This suggests that for most motorists looking to move away from the traditional petrol or diesel car, a hybrid is the most likely next step before the eventual adoption of a full EV."