Jato Dynamics has said that it is "unclear" whether Europe's new car registrations volumes will return to pre-COVID pandemic levels after the sector's recovery slowed in June.
Almost 1.27 million units registered in June but the 27% year-on-year increase over 2020 remains 23% down on the 1.47m registrations in H1 2019 and the 1.6 million units registered in 2018.
Jato's global analyst, Felipe Munoz, said: "The conditions are not yet ideal and far from a total recovery. In the mid-term, it is not clear whether the market will reach pre-COVID levels or not".
Tesla's Model 3 electric vehicle (EV) was only beaten to the top of Europe's new car sales rankings for June by the Volkswagen Golf hatchback, its sales totalling 25,697 versus the VW's 27,247.

The Model 3 was the top-seller in Austria, Norway, Switzerland and the UK, and hit the top 10 in Denmark, France, Germany, Ireland, Luxembourg and Sweden.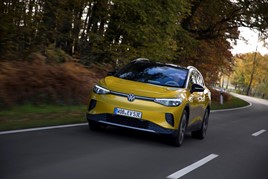 In May AM reported that Volkswagen's new ID.4 became the first SUV to top Europe's EV sales rankings as it topped the charts for April, but it finished fourth in June, with 6,315 registrations.
Despite being the only pure EV to make the top 10, Jato reported that the Telsa model's result came as low emissions cars (BEV and PHEV) continued to perform well in June, recording a new record total market share of 18.5% - up from 8.2% in June 2020.
Pure EV registrations totalled 126,000 units last month, ahead of the 104,000 registered plug-in hybrid (PHEV) units.
Significant increases in the plug-in car market share were posted in Norway (up 24ppts), Sweden (up 24ppts), Denmark (up 21ppts), Ireland (up 17ppts) and Germany (15ppts).
The shift has seen the sales mix for Jeep's new plug-in models account for 30% of its volume – up from 0.5% in June 2020.
Cupra's sales of low emissions vehicles jumped from 0% in June 2020 to 58% last month, meanwhile, as EV and PHEV models made up 72% of MG's total volume.