MG Motor UK's growing franchised car retail network continued to grow the brand's new car registrations despite July's vehicle supply and COVID-prompted sector headwinds.
The brand registered the UK new car markets' biggest volume growth last month with Hyundai (9.8%), Volvo (0.91%), Suzuki (22.9%), Polestar (3,762.5%, to 309 units), Abarth (26.8%) and Subaru (125%, to 135 units) the only other brands to deliver improvements.
MG's UK new car registrations were up by 36.6% to 2,411 after the recent introduction of its new affordable MG5 electric vehicle (EV) bolstered its range of affordable zero-emissions cars.
The result – detailed in July's Society of Manufacturers and Traders (SMMT) registrations data – leaves MG's year-to-date registrations up by 67.5% to 16,005 (YTD 2020: 9,558) as its ambition to reach 130 car dealers in the UK during 2021 rose to 150.
Last week Wilsons Group opened the doors to its new dealership in Epsom, a site described as "strategically important" by the brand.
July's best-selling new car in the UK was Volkswagen's Polo hatchback, with 3,047 sales.
It was followed by the Toyota Yaris (3,001), Kia Sportage (2,631), Ford Puma (2,621) and Volkswagen Golf (2,362).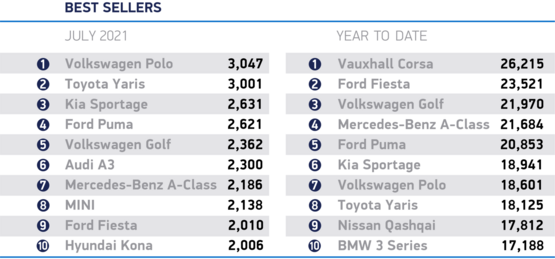 Despite finishing outside the top 10 rankings of the UK's best-selling cars during July, Vauxhall's Corsa hatchback remained the top seller year-to-date, meanwhile, with 26,125 registrations.
The Corsa-e has also been the best-selling new electric car in the small Battery Electric Vehicle sector this year, with 3,120 registrations.
Paul Willcox, the managing director of Vauxhall, said: "As a British brand, it's fantastic to see the Corsa remain the UK's best-selling new car.
"With electric sales continuing to grow at a rapid pace, we're proud to see the new Corsa-e retain its spot at the top of the sales charts, bringing affordable all-electric options to our customers."