A stabilising of values in the used van market in recent months may highlight "what's to come" for the used car sector, according to remarketing giant BCA.
It said that October had delivered stability in the light commercial vehicle (LCV) market for a fifth consecutive month with values averaging £9,861 after an increase of 2.6% (or £259) since May.
BCA said that demand had been matched a 'good level' of supply across BCA's sales programme.
Average monthly values remained up by 27.1% (or £2,104) year-on-year last month, nonetheless.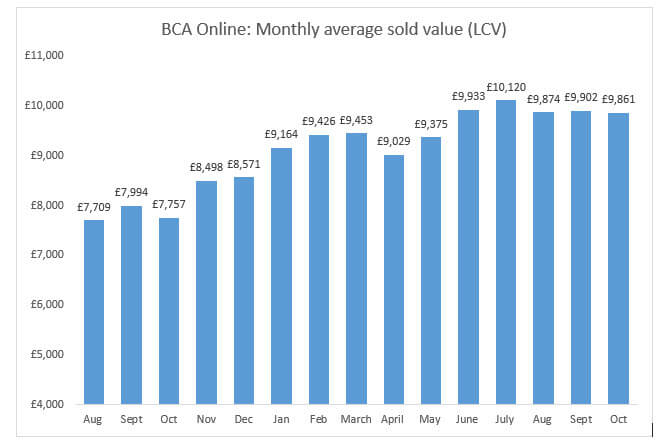 Stuart Pearson, chief operating officer at BCA, said: "Similar new vehicle supply issues have impacted both the car and commercial vehicle marketplace in 2021, albeit the acceleration of LCV prices came much earlier in the year.
"However, values have remained stable since the LCV sector saw prices peak in the summer, which potentially highlights what's to come for cars too.
"The long waiting lists for new commercial vehicles continue and our buyer base has been enhanced by increased activity from the franchised dealer networks who have been particularly competitive when it comes to sourcing used stock.
"With delays in delivery of some new models anticipated to continue well into next year, LCV values in the wholesale used market are expected to remain strong for some months to come."
Earlier this month BCA reported that used car values had remained at their second highest level ever at BCA's auctions in October, despite signs of an "easing back" of 2021's "frenzied" market in the month's latter stages.
Average used car values averaged £11,295 – surpassing £11,000 for the second month running – as year-on-year values remained up £3,143 (or 38.6%) year-on-year last month.
Pearson said: "BCA UK chief operating officer, Stuart Pearson, said that the October "felt like the first month for a long time, where the market started to behave exactly as it usually would at this time of year".
BCA has said that it continues to focus on developing the digital buying experience with improvements to the LCV grading process along with technology upgrades and enhancements to its website and the BCA Buyer app.
Last week AM reported on Shoreham Vehicle Auctions' (SVA) managing director Alex Wright's assertion that dealers visiting auctions in-person are securing cheaper vehicles.
While rising values have taken NAMA grade 1 and 2 used cars out of reach of some smaller retail operations, the trend for online auctions has left many at the front of the queue for the pick of the lower price NAMA grade 3, 4 and 5 cars, he suggested.