Sales of new light commercial vehicles in March were down 27.6% year-on-year as supplies of large and medium panel vans continue to be constrained.
Registrations of large vans, which represent more than two thirds of the new LCV market, totalled 29,230 units, down 18.9% or 6,802 units on March last year.
The decline in medium-sized vans, between 2.0 and 2.5 tonnes, was 27.6% or 2,122 units .
Small vans, meanwhile, decreased by 2,186 units (a 70.8% drop) and pickups by 4,176 units (-48.4%).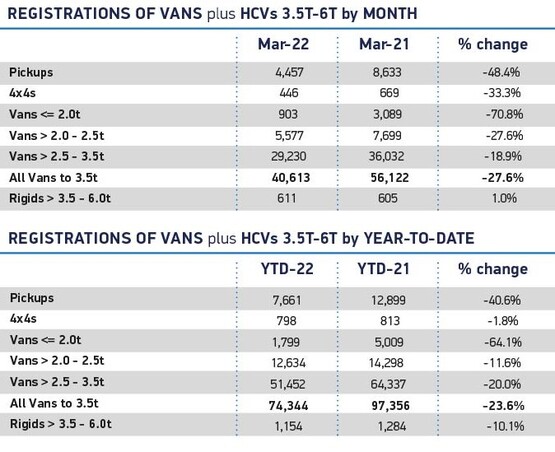 Mike Hawes, SMMT chief executive, said, "The light commercial vehicle market has made a slower start to 2022 compared with the first quarter of last year, reflecting the cyclical nature of fleet operator investment, amid global supply shortages and increasing economic pressures.
"Targeted support from government is needed to encourage fleet renewal and a full zero emission van market.
"The expansion of the Plug-in Van Grant will be a positive for the sector, but equally there needs to be a greater roll-out of suitable chargepoints to ensure fleet and self-employed van operators in all regions can make the transition."
Diesel vans still dominate the market, with a 93.5% share, unlike in the car market where diesel sales have fallen from half of sales in 2015 to around one in 10 by the end of 2021.
But some van operators are switching to plug-in power. Compared with Q1 last year, electric van uptake increased by 68.9% to a market share of 5.8%, more than double a year ago but still some distance behind fully electric passenger cars.