New and used light commercial vehicle (LCV) sales have proved to be more than resilient to the current COVID-19 coronavirus crisis – they are thriving because of it.
While the Society of Motor Manufacturers and Traders (SMMT) reported 8.8% growth in LCV sales during a November which saw 'Lockdown 2' in England result in a 27.4% decline in new car registrations, remarketing businesses have also seen demand soar for used vans.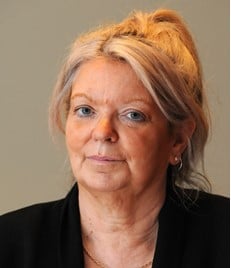 National Franchised Dealers Association (NFDA) chief executive, Sue Robinson, acknowledged that vans sold to fleets are usually delivered to customers – leaving them unaffected by November's showroom closures – but also noted that the sector is being driven by a delivery trend triggered by COVID-19.
"As door-to-door online deliveries continue to support van registrations, it is positive to see the sustained growth in the light commercial market in recent months, which is partly offsetting the impact that the pandemic had on the sector earlier in the year," she said.
Although new LCV registrations remain 21.5% down year-on-year to the end of November, all classes of LCV apart from pick-ups and 4x4s (down by 56.2% and 0.7%).
Maximum capacity 2.5-to-3.5 tonne commercials bought by the fleet sector and often used for the deliveries of online sales delivered 20,769 registrations, showing a 25.2% increase.
The under two tonne and over two-to-2.5 tonne segments both showed increases by 13.7% and 13.6%, respectively.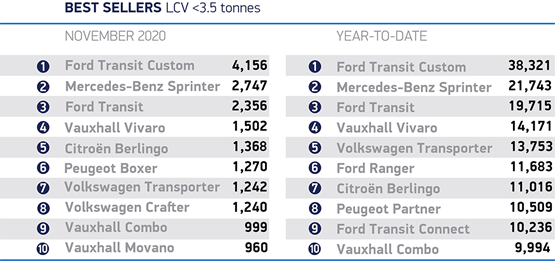 The Ford Transit Custom held onto its lead with the biggest market share with 4,156 registrations in the month as Mercedes-Benz was second, with 2,747 new Sprinters registered in November.
BCA was among the remarketing providers celebrating a boom in LCV sales recently.
October delivered the third highest average monthly value and the second highest sold monthly volume since the onset of the COVID-19 pandemic in March.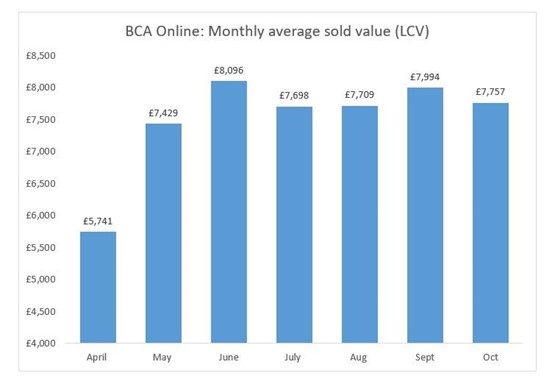 BCA recorded average used LCV values of £7,757, down by £237 (3%) on the exceptionally strong performance reported in September, as average values continued to outstrip guide prices by around 10ppts.
Up to 700 light commercial vehicles are offered by BCA daily and a new programme of Saturday sales and Monday and Thursday evening sales has launched in recent weeks and conversion rates remain high, averaging in excess of 80%.
Stuart Pearson, BCA's chief operating officer for UK Remarketing, said: "In the weeks running up to Christmas, we would expect to see an uptick in demand for LCVs to meet the needs of the home delivery sector.
"However, LCVs have been in high demand throughout the majority of the year due to the significant shift towards online retailing and that demand has continued unabated into the autumn months."