The car retail sector is facing a "perfect storm" of economic and political headwinds as UK inflation hits 7% - threatening to dent consumer confidence.
Data published by the Office for National Statistics (ONS) this morning (April 13) showed that soaring fuel prices and household energy bills had seen inflation reach a 30-year record high during March.
Pressure is now mounting on the Bank of England to deliver a second 2022 rise in interest rates as the pressure on disposable income grows – potentially threating a buoyant automotive retail sector.
Cox Automotive had already warned in its latest Autofocus sector update that retailers faced a "perfect storm" of pressures, with the Ukraine war exacerbating supply issues as faltering consumer demand threatens to trigger a long-anticipated decline in used car values.
Now the BoE has warned that things could get worse still, with inflation expected to reach 8% in April - fulfilling projections by the Finance and Leasing Association (FLA) - and rise higher when a further lifting of household energy price caps is implemented in the autumn.
Owen Edwards, the head of downstream automotive at Grant Thornton, said consumer confidence would be "undermined" by the pressures of inflation "in turn reducing demand for new and used vehicles in the UK".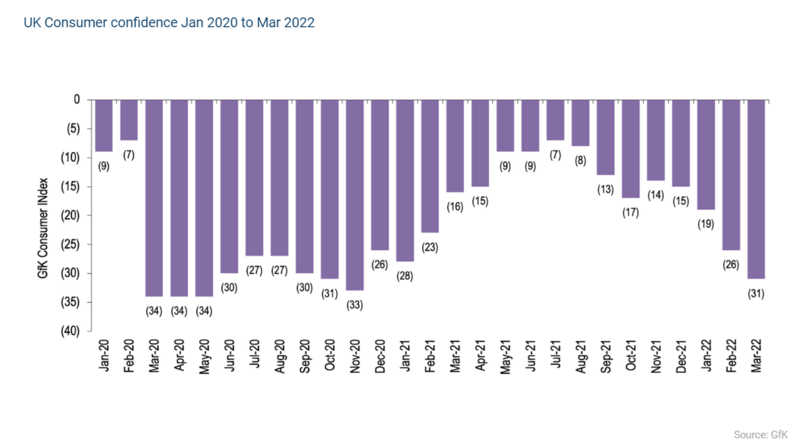 Philip Nothard, insight and strategy director at Cox Automotive, said: "When we previously released AutoFocus in Q1, the market was in a very different place. While challenges did exist, buyer confidence was still high, and vehicle values continued to increase.
"I spoke about how we should all get used to VUCA (volatility, uncertainty, complexity, and ambiguity), and it's clear that the automotive industry still faces a bumpy road ahead. However, continual headwinds are testing the resilience of the entire global automotive sector.
"We must recognise that the sector is still in a period of change, but change brings opportunities and well as challenges. We can't hide the fact that many businesses will need to tighten their belts over the next few months, but the sector has already proven that it can overcome struggles stronger than before."
While new car order banks remain at record highs, a weakening of the used car sector is already being seen at a wholesale and retail level.
Auto Trader's Retail Price Index recorded a year-on-year-price rise of just 0.1% last month, while eBay Motor Group data indicated an average dip in advertised prices of 1.1% month-on-month to £17,636.
BCA, meanwhile, said that its wholesale used car values had declined by 5.9% in March as external economic pressures, the cost-of-living squeeze and the ramifications of the conflict in Ukraine ensured a "tougher" market for retailers.
Stuart Pearson, the chief operating officer at remarketing giant BCA, said that the start of April has realised fears that the expectations of buyers and sellers were "drifting apart".
Research conducted by RAPP and Code (part of Omnicom Precision Marketing Group) has revealed that almost a quarter (24%) of consumers are now planning to spend less across six key sectors (travel, luxury, retail, automotive, technology and financial services) as "consumer confidence hits rock bottom".
Jessica Evans, new business director at RAPP said: "Inflation skyrocketing and the war in Ukraine have taken their toll on consumer confidence.
"In order to survive, brands must focus on what consumers are asking for; convenience and clarity."