While Auto Trader's Retail Price Index data reveals a slight softening in the growth of used car retail values this month, the used car buyer is still facing price rises the longer they wait.
The year-on-year increase in July was 2.8%, down from 3.2% in June. However, on a month-on-month basis, average retail prices have risen by 0.3%.
Auto Trader said the only age group experiencing a contraction in value is the 1-3-year-old vehicles, with the average retail price currently down by 2.0% from last year. This decline is driven by the ongoing drop in the value of low emission vehicles, which is impacting the average values for this age group of cars.
In particular, the retail value of petrol and diesel cars aged 1-3 years old has increased by 3% year-on-year, while their plug-in-hybrid and electric counterparts have experienced a substantial decline of -15% and -24%, respectively.
Auto Trader's director of data and insight Richard Walker said: "Average retail prices have been increasing for 40 consecutive months, but since the start of the year we've seen a steady acceleration in retail price growth. Although this has slowed slightly, it's not an indication of a market in reverse, and anyone anticipating a drop in retail prices anytime soon will be sorely disappointed.
"Despite the economic headwinds, demand remains buoyant, which combined with the ongoing constraints on new and second-hand car supply, will keep retail values stable.
"Increasing used car prices does have the potential to place added pressure on motorists who are already feeling the squeeze on their household finances. However, most car buyers should be insulated if they have a car to sell or to exchange, as it's not just the price of the car on retailers' forecourts that are rising, so too is the car on driveways, and in many instances likely to be worth considerably more than expected."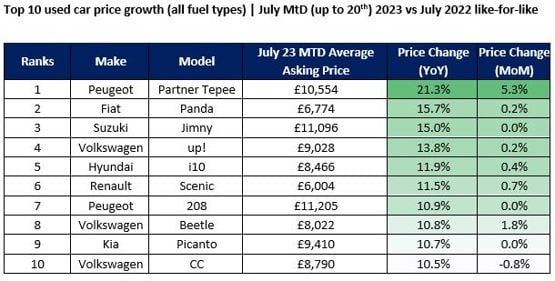 Auto Trader found there are strong rates of growth across different fuel types and age groups, particularly among older cars. Second-hand cars aged over 15 years old saw an impressive 8.7% increase in average retail value compared to July 2022, and a 2.6% increase from last month, June 2023. Cars aged 10-15 years old also experienced a conservative 1.4% month-on-month increase, but they have significantly increased by 11.1% year-on-year. This is in addition to the significant 26.5% year-on-year growth recorded in July 2022.
The growth is partly due to robust consumer appetite, but supply pressures play a significant role, with current demand outpacing stock availability. The constraints in supply of older age cohorts are a consequence of the 2008 financial crisis, which led to slower volumes of brand-new cars entering the retail market.
Electric retail values, though still contracting on a year-on-year basis, are stabilising as the surge in supply slows down. This aligns with the wider retail market trend, where the rate of supply growth continues to outpace consumer demand growth. Electric vehicle retail prices across all ages are down by -20.7% on last year, with the current value at £31,622. In contrast, the average retail price of used petrol and diesel cars, of any age group, has increased by 5.2% and 5.1% year-on-year, respectively.
The market is showing signs of stabilization, with this month recording the lowest level of month-on-month contraction since August 2022. At -0.1%, it represents a significant improvement from the -0.9% in June, -1.5% in May, and -1.6% in April. This stabilization is attributed to slowing supply levels as retailers sell through available cars.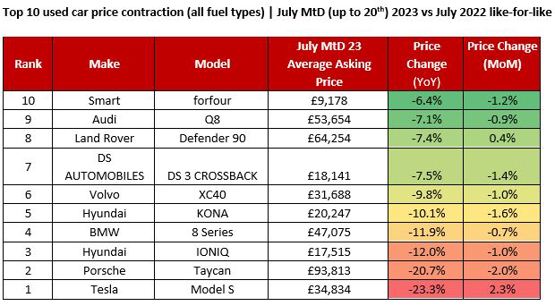 While electric vehicles were the fastest-selling cars until late summer last year, they have now become substantially slower than other fuel types. However, due to improved supply and demand dynamics and attracting car buyers with competitive prices, EVs are now leaving forecourts much faster. The current speed of sale, at just 30 days, is on par with petrol cars, making them the joint fastest-selling fuel type and the fastest speed of sale for electric vehicles in the past nine months. These positive trends indicate a promising future for the used car market, especially as the market stabilizes and electric vehicles gain popularity.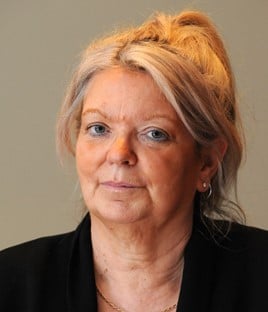 Sue Robinson, chief executive of the National Franchised Dealers Association (NFDA), added: "The used car market continues to function in good stead; values are rising, supply is improving, and demand is robust. Electric vehicle prices are also stabilising which is positive, the price parity between EVs and ICE has always been one of the significant barriers to adoption for motorists.
"With used EV prices declining and edging increasingly closer to the price range of consumer budgets, the data is starting to show an uptick in demand, opening doors of opportunity for retailers to take advantage of this market."