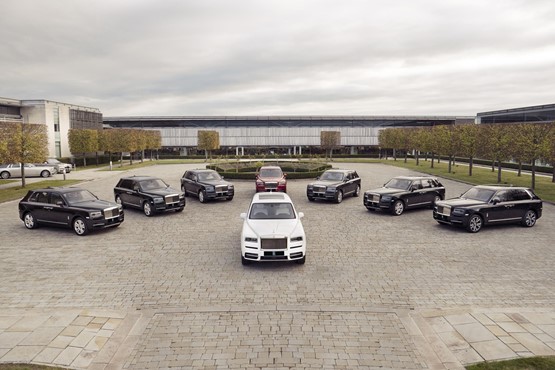 Rolls-Royce Motor Cars has released the first eight Cullinan SUV models to UK dealers.
They departed the company's Goodwood home in West Sussex, in unison following final sign off from Julian Jenkins, regional director at Rolls-Royce Motor Cars.
The Cullinans were driven by showroom representatives to their new homes in Edinburgh, Leeds, Manchester, Birmingham, Bristol, Essex, London and Sunningdale.
"Response to our new Rolls-Royce Cullinan from the world's leading opinion formers and global media has been unequivocally positive and I am delighted that, from today, prospective clients will have the opportunity to experience this remarkable motor car via their local Rolls Royce showroom," said Jenkins.
Powered by a twin-turbo 6.75-litre V12 engine, the Cullinan develops 571PS and 850Nm of torque.
Weighing more than 2.6-tonnes, the luxury SUV can achieve a limited top speed of 155mph.
Buyers can expect average fuel consumption of 18mpg.
Two rear configurations are offered – Lounge Seats or Individual Seats. The Lounge Seat configuration is the more functional of the two options. With space for three passengers in the rear, it will likely be more attractive to families. The rear seats also fold down – a first for Rolls-Royce.
The Individual Seat configuration is for those who value the ultimate luxury an SUV can offer over practicality. The two individual rear seats are separated by a Fixed Rear Centre Console incorporating a drinks cabinet with Rolls-Royce whisky glasses and decanter, champagne flutes and refrigerator. The seats also move in a number of planes to offer ultimate comfort whilst travelling in the rear.
A glass partition isolates the passenger cabin from the 600-litre luggage compartment.
The SUV was created to provide supreme luxury both on and off-road.