Citroen has revealed details of its nine-seat ë-SpaceTourer MPV electric vehicle (EV) as its 2020 electrification revolution gathers pace.
The PSA Group brand has already launched a plug-in hybrid version of the C3 Aircross this year and the C4 nameplate will return on a new C-segment offering later this year.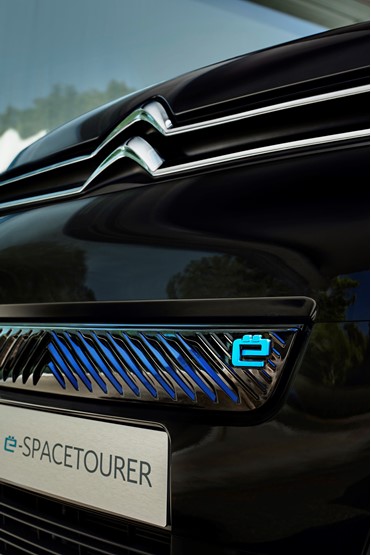 But today the brand marked its entry into the people carrier space with the fully-electric ë-SpaceTourer MPV, a van-based offering with a modular seating layout which promises 143 miles of range (WLTP) from a 50 kWh battery pack.
The MPV is 4.95 metres long and offers a load space of up to 2,381-litres.
Citroen said that the model delivers a 136PS maximum power output (and 260Nm torque), however the maximum speed is 80mph in all drive modes (Eco, Normal, Power).
Citroen said in a statement issued today (June 12): "With the introduction today of the all-electric version of SpaceTourer – ë-SpaceTourer – Citroën proves that introducing an electric powertrain does not mean making compromises compared to the Internal Combustion Engine (ICE) versions.
"New ë-SpaceTourer also provides more choice linked to increased customer demand for 100% electric vehicles in all sectors of the market."
Groupe PSA said last year that it would offer an electric or hybrid powertrain option on all newly-developed models in its entire line-up from 2019.
The first all-new and all electric Citroen to reachthe UK market will be the new C-segment C4, which will be launched in the coming months.
The Citroen ë-SpaceTourer will be available in Feel and Business trims, for the private and commercial markets, and is set to reach UK dealerships by the end of the year,
Feel comes as a five, seven or eight-seater, while Business' can offer between five and nine seats.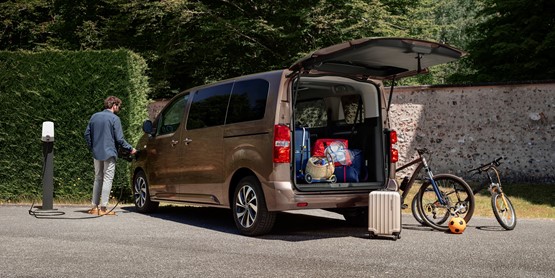 Built on the PSA Group's MP2 platform, the ë-SpaceTourer comes with an eight-year/100,000-mile battery warranty which was aligned to a new roadside recovery offer launched by the brand back in May.
Its EV system claims charging times of less than eight hours from a 7.4 kW Wallbox or up to 80% in 30 minutes via a 100 kW fast charger.
Among the interior features on each ë-SpaceTourer are: a newly-designed ë-Toggle gear lever; a selector for three drive modes – Eco, Normal and Power; a seven-inch touchscreen incorporating a new section under the heading "Energy", which gives access to the vehicle's electrical system dashboard and delivers a view of nearby charging stations.
Three connected packages available for the ë-SpaceTourer promise to make access to connected services quick and intuitive while meeting three key requirements: optimal safety, easy navigation and an improved connected experience.
Connect Assist – Automatic activation, or manual pressing of the "Assistance" button, puts the driver in contact with a dedicated call centre that can provide help when needed.
Connect Nav – The Connect Nav touchscreen is able to connect to TomTom Traffic to give real-time traffic information to identify the best route. The locations and prices of charge points and car parks, weather information and local points-of-interest are also available, along with visual and audible warnings of danger areas and accident blackspots.
Connect Play – Mirror Screen, with Apple CarPlay™ and Android Auto, is available in order to connect a smartphone and project its screen onto that of the vehicle.