Volkswagen newly-launched all-electric ID.3 hatchback has been awarded a five-star Euro NCAP safety rating following the organisation's latest round of crash testing.
Range-topping 1ST Edition versions of the ID.3 reached UK customers via a nationwide handover event at franchises across the country last month and order books opened for the full range earlier this month.
But the first in a series of ID electric vehicle (EV) models from VW - the ID.4 SUV wil be introduced later this year - has now proved itself as a "safe buy" for customers with a strong showing in collision testing.
Euro NCAP secretary general, Michiel van Ratingen, said: "The ID.3 represents the direction of travel for the car industry in recent years.
"The climate crisis means that we all must adapt to a cleaner future and electric cars will become the norm in the years to come.
"Euro NCAP will continue to ensure that saving the planet does not come at the cost of safety and I am glad to see that the ID.3 – the latest generation of the people's car – does not compromise in this regard."
The ID.3 emerged from Euro NCAP's collision tests with with good results in all areas of assessment.
It scored 87% for adult occupant protection, 89% for child occupants, 71% for vulnerable road users and 88% for its safety assistance features.
Euro NCAP said that the car featured "robust structural integrity and the latest in restraint technology are combined with high-tech sensors to offer excellent all-round protection for the car's occupants and for other road-users".
Crash avoidance systems like AEB are standard, and post-crash safety is covered by a braking Multi-Collision Brake, a system that applies the brakes after a collision to prevent further impacts, and by an advanced e-Call system.
Over the last month, Euro NCAP has also evaluated the new Plug-in Hybrid variant of the Toyota Rav4 and has extended the 2019 5-star rating to this model.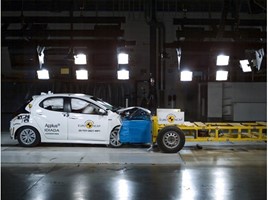 Last month it reported that the Rav4's hatchback stablemate, the new Yaris, had become the first car to be safety rated using Euro NCAP's revamped 2020 crash test protocols – emerging with a top five-star rating.
The fourth-generation Yaris was the first vehicle to be subjected to an all-new frontal offset test, which replaces the one previously used since the programme started in 1997, and is the first to feature a counter-measure for injuries in far-side impacts under the new regime.