Volkswagen retailers introduced customers to the first batch of the German brand's ID.3 electric vehicle (EV) to reach UK dealerships at a nationwide handover event over the weekend.
The landmark car – the first of Volkswagen's ID range of zero emissions vehicles – landed in £38,880 1ST Edition guise (before the Government's ULEV grant) with those who laid their deposit down early to be part of VW new electric revolution.
The UK-wide event came just days before the global premier of the larger ID.4 crossover, which is set to officially break cover in a virtual event tomorrow (September 23).
Deliveries of the ID.3 1ST Edition got underway on Friday evening, with the first customers early adopters, who had been on the waiting list to receive a 1ST Edition car.
The model was first previewed at the 2016 Geneva Motor Show.
While multiple battery capacities will soon be available, the initial batch of 1ST Edition models feature a 58kWh, 204 PS drivetrain capable of a 260-mile range, with rapid charging capability of up to 100 kW, meaning that 180 miles of range can be added in as little as half an hour.
Volkswagen UK managing director, Andrew Savvas, spoke to AM about the importance of the ID.3 and other forthcoming ID models in a recent face-to-face manufacturer profile feature and attended Vindis Group's Volkswagen Cambridge dealership to experience the grand handover first hand on Friday.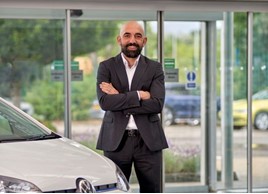 He said: "I am incredibly proud to witness this moment. Volkswagen has made a commitment to our future, and our children's future.
"In 2018 we were the first car maker to sign up to the Paris Agreement on CO2, while last year we announced our new environmental mission statement 'goTozero' the aim of which is to achieve a neutral CO2 balance by 2050.
"We intend to be the world market leader in e-mobility, and to achieve this we are investing €33 billion by 2024, including €11 billion for the Volkswagen brand alone.
"Today we are seeing the first UK customers drive away in the ID.3 1ST Edition, the first Volkswagen Group product on the new MEB platform.
"This is a significant moment, and the start of a massive shift.
"Some of my colleagues were there for this moment in 1974 when the first Golfs were delivered in the UK, and over 35 million have been sold since.
"Today I feel a sense of genuine excitement. The MEB platform will underpin numerous products across the Group in the coming months and years.
"In fact, only next week we unveil the ID.4, Volkswagen's first electric SUV, which will be sold globally. By 2029 the Group aims to sell 20 million vehicles based on the MEB platform.
"Today is just the beginning and I can't wait to see these ID.3s out on UK roads."
Marshall Motors chief executive, Daksh Gupta, was among those to attend The Grand Handover, popping in to the AM100 group's St Albans dealership to take in the atmosphere.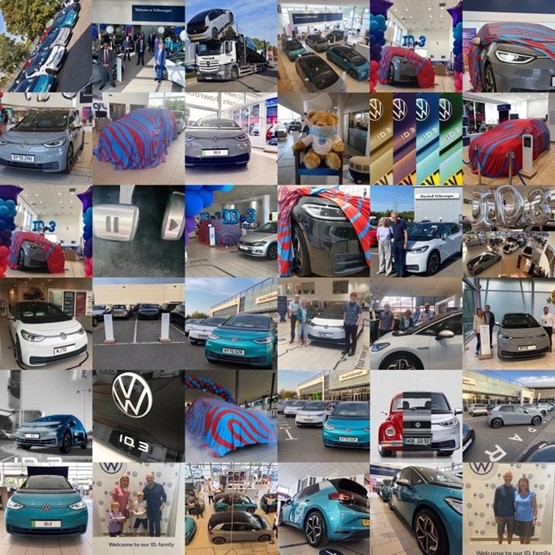 The Marshall Group, which has a total of 15 passenger VW car retailers and six commercial vehicle dealers following the completion of its acquisition of Jardine Motors' Aylesbury franchise last month, also compiled a collage of handovers which it posted via its social media channels.
Owners of the ID.3 1ST Edition models will enjoy a comprehensive equipment package, which includes heated front seats, Adaptive Cruise Control, Keyless entry and start, LED matrix headlights, a bi-colour exterior and 19-inch alloy wheels.
The model also brings with it new safety features including Volkswagen's first central airbag, which prevents occupants colliding with one another in the event of a side-impact, as well as the Car2X system, with which the ID.3 can communicate information, including advance warning of hazards, to other Car2X-equipped vehicles in the vicinity.