Jaguar Land Rover (JLR) reinvention of the Defender 4x4 was a mammoth task, but it has added the AM Awards 2021's New Car of the Year title to recognition of a job well done.
While the name has only been around since the 1990s, the iconic design of the vehicle has essentially remained the same since 1948.
All JLR needed to do was capture the same spirit as the models from the brand's past, while bridging the gap between stripped-out rugged off-roader and create something that would also attract customers looking for a high-tech luxury SUV.
By all accounts JLR has succeeded in delivering a model that oozes desirability, delighting Land Rover dealers and automotive retail fans across the UK in this reader-voted award.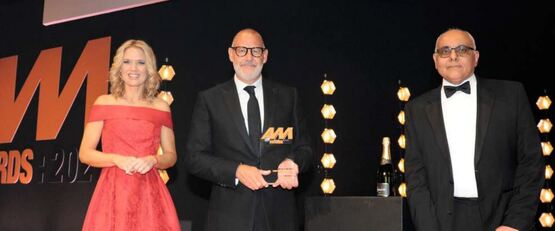 The new Defender is influenced by its past but is not constrained by it and JLR has built a vehicle with all of the off-road ability customers will ever need and combined it with an impressively capable on-road package.
The Defender line-up has versions to attract a range of conquest customers, with a three-door 90 or five-door 110 with a range of petrol and diesel engines, as well as a plug-in hybrid.
The range even features a stripped out hard-top Commercial version priced from £35,000 for those still looking for more of a utilitarian mud-plugger, while passenger car models cost upwards of £40,000, with an almost endless range of options and configurations.
More than half of customers opt for an accessory pack, making the Defender one of the most accessorised and personalised Land Rovers the company has ever produced.
Inside, this SUV strikes just the right balance between quality and toughness and there are all the latest technology connected features to bring this icon firmly into the 21st century, including over-the-air software updates and the Pivi infotainment system, which features an intuitive interface and its own back-up battery for always-on responses.
The Defender's carefully honed handling also delivers a rewarding drive and first-class comfort across all terrains, as well as boasting Euro NCAP's maximum five-star safety rating as another feather in its cap.
Shorlisted finalists
Audi A3
Ford Puma
Kia Sorento
Toyota Yaris
Volkswagen Golf