Inchcape chief executive Stefan Bomhard has resigned his post with the car retail and import business to take up a position as the chief executive of Imperial Brands.
The departure of Bomhard, who joined the business back in 2015, to the tabacco giant, leaves three of the AM100's top six retail groups in search of a chief executive.
In June Pendragon chief executive Mark Herbert left the former AM100-topping retail group after just three months at the helm, while Andy Bruce, the chief executive of second-placed Lookers, stepped down in November as the Financial Conduct Authority announced the start of an investigation into the business.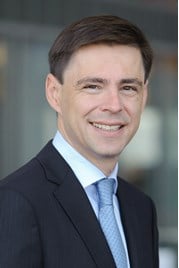 Commenting on his departure from Inchcape, in a statement issued via the London Stock Exchange today (February 3), Bomhard said: "It has been a privilege to lead such a high-quality organisation in an exciting and dynamic sector.
"I would like to thank the strong team that I have had the pleasure of working with. I know that Inchcape will continue to go from strength to strength.
"I leave Inchcape with my gratitude to our partners and shareholders who have supported Inchcape through my time with the business."
Inchcape said that the search for a successor for Bomhard will now commence, with his finalised departure date will be announced in due course.
The Group will also announce its full year results on February 27.
Inchcape group chairman, Nigel Stein, said: "On behalf of myself, the Board and all our colleagues at Inchcape, I would like to thank Stefan for his transformational leadership of this company.
"The Ignite strategy he implemented has substantially refocused and grown the Group's activities towards a more profitable distribution-weighted business model.
"In order to achieve these significant developments and enhance Inchcape's organisational strength, Stefan has developed and empowered a strong management team that will continue to drive the business forward following his departure.
"We are grateful to Stefan and wish him continued success for the future."
Back in July, Inchcape said that it was targeting "revenue and cost optimisation" in the UK car retail market after its disposal of seven Volkswagen and Audi dealerships.
Since then Citygate Automotive has confirmed its acquisition of a further two Inchcape Retail Volkswagen dealerships, in West London and Twickenham.
Commenting within its first-half 2019 financial results published on July 25, the AM100 group said that it had seen its retail business in the UK stabilise during 2019 and was seeking further improvements following the recent disposal of the initial seven sites to Group 1 Automotive and Motorline for a combined sum of £21 million.
Group 1 acquired five Volkswagen car and van franchises - in Chelmsford, Colchester, Romford and Southend - while Motorline has trebled its Audi representation in Kent with the acquisition of dealerships in Maidstone and Tunbridge Wells followed its purchase of the Canterbury East Kent Audi business from Inchcape in June 2018.
Speaking at the time, Bomhard, said: "We have now launched the next phase of our plans to improve the span of performance across our UK business, and as a part of this we announce the sale of seven retail sites, which in aggregate were loss-making in 2018, for £21m cash proceeds.
"I am pleased with the strategic progress that we are making. The retail market portfolio optimisation in the UK (and Australia) is a tangible demonstration of our focus on capital deployment and productivity."
Globally, Inchcape reported group revenue growth of 2.4% year-on-year to £4.7 billion in the reported period to June 30, 2019.
Profit before tax and exceptional items of £156.3m was down 11.8% year-on-year, meanwhile.