Mercedes-Benz Vans UK has welcomed back Andrew Lawson with his appointment as sales director following a four-year assignment to the German brand's USA operation.
The move, effective from July 1, will see Simon Neill move from his current position as sales director to customer services director, succeeding David Joyce, who moved over to the Mercedes-Benz Trucks UK business in February.
Lawson will assume responsibility for the development of new customers to the Mercedes-Benz Vans UK through the retail, fleet and direct channels, as well as the retention of existing business to strengthen the commitment to keeping customers' businesses moving as part of a partnership approach.
A statement issued by the brand said that he has "a wealth of experience in the LCV sector, having worked for the three-pointed star for 15 years".
Prior to his time at Mercedes-Benz Lawson worked for Citroen UK.
During his assignment in America, Mercedes-Benz said that he was "instrumental in the acquisition of many new clients to the brand, notably Amazon and US Postal Service".
Steve Bridge, managing director, Mercedes-Benz Vans UK, who celebrates his 20th anniversary with the brand this month, said: "The return of Andy, and move of role for Simon will ensure that we continue to challenge the boundaries of the status quo, and lead from the front.
"While this year will continue to be challenging, we remain resolutely committed to face it alongside the van community, together, and these new roles will further strengthen our ability to do that."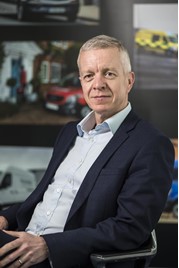 Neill has been with the Mercedes-Benz UK business for 19 years and previously held sales and leadership positions in both the Mercedes-Benz and Ford Commercial Vehicle networks.
As part of this new appointment, Neill will assume responsibility for all aspects of customer service and will focus on the customer-centric approach 'post sale' to maximise the value of the brand to the customer, Mercedes-Benz said.
It added: "Customer loyalty and retention will be a key focus moving forward, with topics such as electrification, digitalisation and connectivity being high on the agenda."
Bridge said: "We have a clear strategy that places the customer at the centre of everything we do, and are exceptionally proud that this focus has meant we have provided unwavering support to our customers at a time that they have needed us the most.
"We remain open for business, to support our clients, and ensure that their vehicle remains on the road and serving the front line."
Last summer Mercedes-Benz said that 25% of its new car sales transactions will be completed online by 2025 as it develops a "single log-in" digital strategy offering lifestyle, mobility and shopping solutions to owners and non-owners alike.
At a 'Future of Retail' conference at the brand's new dealership in The Hague yesterday (July 18), AM heard how the German premium brand planned to drive its online operations to engage a wider range of potential customers and create data-rich leads for its franchised retailers.
That shift could accelerate further following the COVID-19 coronavirus crisis.
Speaking at the conference last summer, Britta Seeger, member of the Board of Management of Daimler AG responsible for Mercedes-Benz Cars marketing and sales, said: "The world is changing fast and so are the needs, the wishes and the expectations of our customers.
"Being 'always on' is a game-changer which strongly influences our daily lives today and will do so even more so in the future."