LSH Auto UK has welcomed an influx of commercial vehicles after its newly-opened Stockport and Erdington dealerships became part of the Mercedes-Benz Vans retail franchise.
The German manufacturer's Citan, Vito and Sprinter van models, as well as X-Class pick-up, are all now offered at the flagship 10.5-acre Stockport site, which was opened in July, and the Erdington 'used car centre of excellence', on the outskirts of Birmingham, which opened its doors during April.
At Stockport, the van range has its own dedicated area within the three-storey, glass-sided showroom, which incorporates customer lounges, an outdoor roof terrace, and a licensed bistro while the project's innovative use of green spaces extends to a living 'green wall' and contemporary water feature, and an attractive landscaped garden.
But the scale of the locations is not the only revolutionary part of LSH Auto UK's Mercedes-Benz Vans retail operation, as it moves to scrap commission-based earnings for its staff in a bid to better prioritise customer service.
Profit opportunity
LSH Auto UK managing director, Martyn Webb, who spoke to AM in a face-to-face feature for the magazine's August edition, said: "Mercedes-Benz of Stockport is a landmark destination at which we're offering van as well as car customers and the general public a unique opportunity to experience Mercedes-Benz and LSH under one highly distinctive roof. It represents a genuine game-changer for the automotive retail sector.
"Our doors are open to everyone. They can come and use a desk, have a coffee or even have a bite to eat. We even have a golf simulator on site. They don't need to talk to anyone about a vehicle if they don't want to. We want this space to be used in innovative ways and look forward to showcasing its endless possibilities."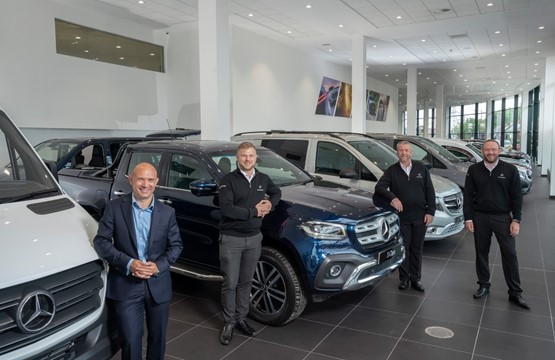 Webb stressed that LSH Auto UK was fully committed to its new partnership with Mercedes-Benz Vans, not least because of the huge opportunities it offers to increase both sales and aftersales revenues.
"We're often asked by car customers whether we can also supply them with a van, and I'm sure the same will be true in reverse, so it's a new avenue that can only complement our established business," he said.
"Mercedes-Benz Vans, meanwhile, is a brand that has grown very strongly in recent years. With our retail expertise, and particularly our commitment always to put the customer first, we are perfectly placed to help Mercedes-Benz Vans achieve its own strategic ambitions."
James Cubitt took up LSH Auto UK's newly-created role of General Manager – Van, in June.
He began his career 20 years ago with the former Mercedes-Benz commercial vehicle franchisee for the West Midlands and moves to the post from a position as head of global sales for a Chinese-owned automotive group's van and taxi products range
"Having spent the best part of 15 years working with Mercedes-Benz vans this fantastic opportunity represents something of a homecoming for me," said Cubitt.
"Before I accepted this challenge I had to reassure myself that LSH Auto wasn't just playing at vans as a 'bolt on' to its car business – it was immediately clear from my first conversation with Martyn that nothing could be further from the truth. "
Commission-free van retail concept
Cubitt said that he was given a blank sheet of paper on which to map out LSH Auto UK's Mercedes-Benz Vans operation.
He said: "We were keen to move away from the industry convention in which you have sales managers and executives, business managers, and so on.
"Whether helping to specify the right chassis, commissioning conversions or bodybuilds, arranging finance, or providing part-exchange valuations, our Experience Partners can do it all.
"This means the customer has a single point of contact through the entire buying cycle, an approach that can only make the process easier and more enjoyable for them."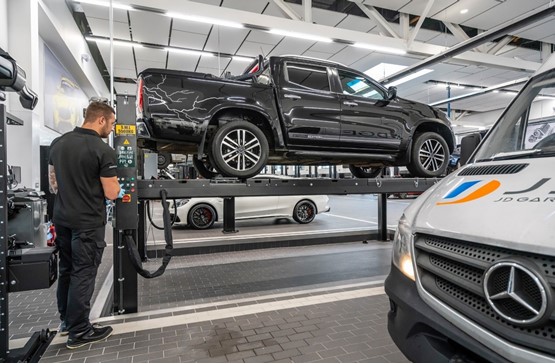 In another diversion from the norm, those Experience Partners are not paid commission based on their sales performance, LSH Auto UK revealed.
"The only criteria by which they will be measured is the quality of their customer service," said Cubitt. "This accords with our entire approach, which recognises that great experiences lead inexorably to long-term relationships."
Mercedes-Benz Vans managing director, Steve Bridge, said: "We are hugely excited to be welcoming Martyn, James and the rest of the LSH Auto team to the Mercedes-Benz Vans 'family'.
"With their fantastic facilities and innovative approach, I'm confident we will soon see many more retail customers and SMEs (small and medium-sized enterprises) converting to the three-pointed star.
"Having done so, I have every confidence those customers will be able to rely on our products and LSH Auto's aftersales support to keep their businesses moving."
LSH Auto UK's Hong Kong-based parent company is the world's largest Mercedes-Benz passenger car retailer, with 240 sites in Europe, Asia and Australia.
LSH Auto UK was established in May 2016 when the group acquired nine Mercedes-Benz Retail Group dealerships located in and around Birmingham and Manchester.