Bentley Motors has said an official farewell to its board member for sales and marketing, Chris Craft, as the luxury car maker prepares to welcome Alain Favey from Skoda as his replacement.
Craft officially departs the Crewe-based OEM today (April 30), following what was described as an "illustrious 27-year career in the VW Group" and just over three years after joining from Porsche Cars GB.
He is taking his retirement after overseeing key launches of the Continental GT Convertible, Flying Spur and Bentayga – models which have accelerated the brand to record sales.
Craft had previously spent time as the managing director of Porsche Great Britain as well as director of Volkswagen UK and Škoda UK.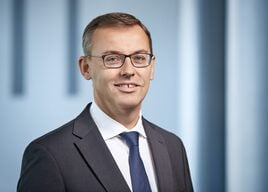 Favey is set to take up his post as board member for sales and marketing, reporting to Bentley Motors chairman and chief executive, Adrian Hallmark, in June.
He is currently board member for sales and marketing at Škoda where he led the launches of the current model range including the brand's first fully electric vehicle (EV), the Enyaq iV.
Favey joined the Volkswagen Group as for Volkswagen passenger cars' head of sales for Europe in 2009.
In 2012 he became CEO of Porsche Holding Salzburg, Europe's largest car distributor.
Hallmark said: "I am delighted to welcome Alain to the team. His experience and knowledge from the electrification of the Škoda brand will be extremely useful to us as we continue our journey to Beyond100.
"I would also like to thank Chris on behalf of everyone who has worked with him for his significant contribution to Bentley but also to the Volkswagen Group.
"I wish him all the very best in his retirement and I hope he will continue to enjoy the cars that have been such a huge part of his life and career."
Bentley Motors has committed to offering an EV-only range from 2030 onwards as part of its Beyond 100 plan, with all models sold after 2026 either electric or plug-in hybrid (PHEV).
AM understands that the brand's first EV will take the form of a high-riding saloon, due to reach the market in 2025.