Ex-Lookers chief executive Andy Bruce and former chief operating officer Nigel McMinn have joined the board at car handover technology firm AutoBuzz after investing in the customer-focussed start-up.
Now the CEO and COO of SME fleet management specialist, Fleet Alliance, Bruce and McMinn want to help drive the rapid growth of the customer-facing retail tool – developed and operated by AutoComms Solutions – as well as helping to further develop the offering for the fleet and leasing space.
Speaking to AM about the project, Bruce said: "Our main focus remains very much our role at Fleet Alliance but we both spotted this piece of technology and realised that it had huge potential. Investing was an opportunity not to be missed.
"With new car supplies still struggling and long lead times the norm, this is a great solution to keep customers in the loop, driving retention and improving their retail experience."
The AutoBuzz platform helps to keep customers excited about the arrival of their new vehicle with personalised and localised content throughout the post-order, pre-handover gap and has recently been adopted by Steven Eagell Group, JCB Group and Waylands Automotive.
"The technology has proven to positively impact customer satisfaction levels as well as selling additional products and services. The ROI to retailers and OEMs is hugely compelling," said Bruce.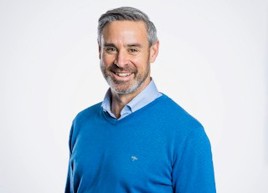 Commenting on the system's potential roll-out into the fleet and leasing space, McMinn added: "We know the retail automotive space well, but we are now immersed in the fleet and leasing sector and AutoBuzz can easily support some key challenges in this world.
"Fleet managers and their drivers need a lot of information about their vehicle as well as its latest delivery updates."
AutoComms Solutions chief executive and co-founder Ingram Sanders said his business was already benfitting from the addition of the car retail expertise brought to the board by Bruce and McMinn.
He said: "Myself and Nick Golding have been involved in retail automotive for ten years but the level of experience and insight that Nigel McMinn and Andy Bruce have is unbelievable and a massive coup for our business.
"We're all very excited to see how we can develop the technology together at a time when maximising customer value and giving exceptional customer experience is a top priority being discussed at automotive board room level up and down the country."