An exclusive interview with Volkswagen UK boss Andrew Savvas, insights into dealers' preparations for local lockdowns and an examination of the crucial electric cars reaching the market are all in the latest AM digital magazine.
Read it here.
Plus there's a review of the Q2 markets, RAPID RTC boss Glen Demetriof's advice on meaningful conversations with customers, and a look at the continued digital transformation for the future of motor retail.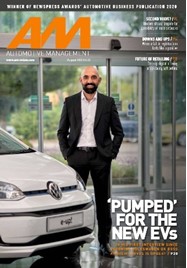 Editor's letter:
Pressure will now be building upon carmakers and captive finance houses to ensure UK franchised networks have the optimum tools to revive the new car market for the medium term.
Just before this issue of AM went to press the Chancellor of the Exchequer Rishi Sunak gave an economic update and dashed motor retail's hopes for a scrappage scheme or VAT holiday to boost demand for cars and vans.
Payment freezes for consumers that have been left temporarily strapped for cash by the pandemic may impact car PCP renewals by the end of this year. And there'll be customers whose dreams of having some equity in the deal risk being shattered as their PCP reaches the end of term. The prospect of finding a sizeable deposit to 'go-again', or alternatively refinancing or buying used may push some buyers towards the latter.
But new cars make used cars. So surely the incentives must come from the carmakers themselves. With the pent-up demand being served already, low APR finance, loyalty discounts and extended terms will need to be in the industry's toolkit to stimulate new car customers into spending.
As September's plate-change campaign nears it's time to consider all options.
Tim Rose, editor