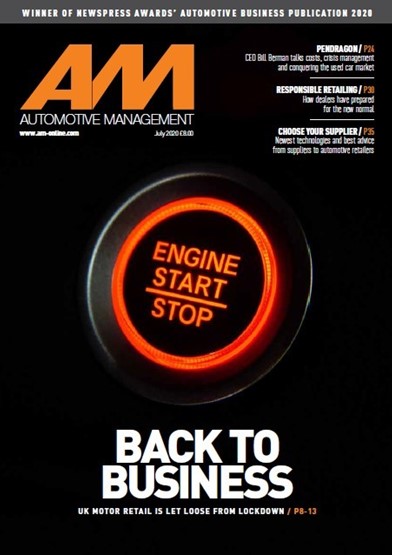 The July Issue of AM magazine is out now with exclusive insights into how dealers are getting back to business after the end of the coronavirus lockdown in England and Northern Ireland.
Articles inside also examine some of the steps that dealers are taking to retail responsibly in showrooms and workshops adapted to adhere with UK Government rules on social distancing.
Plus Pendragon chief executive Bill Berman allowed AM to be the first trade publication to interview him about his plans to pull the group back into profit and improve the culture of the business.
Click on the links to read some of the exclusive content inside:
The Editor's Letter
Very difficult news this month that Lookers is set to make 1,500 redundancies, which is close to 20% of its entire workforce. All dealers are having to consider costs and job cuts due to the shock coronavirus has created in the UK economy and all industries, and I hope that those affected will soon find alternative employment, whether in the automotive sector or elsewhere.
Coronavirus' impact aside, I do find it a bit frustrating that the motor retail industry is driven in cycles of boom and bust. When times (and margins) are great carmakers flood the market with new cars and demand that dealers expand or upgrade showrooms and increase sales staff and technicians to cope.
Then inevitably the peak passes by and OEMs reduce supply, so that extra headcount and corporate identity CI investment becomes a burden. The property investment is largely fixed. The headcount is flexible.
The trade bodies have cited Brexit instability, regulatory instability and now coronavirus instability as having damaged the car markets. But until motor retail actually changes its patterns, isn't instability going to be the constant feature?
Four years ago Lookers' prior senior management team told me the UK new car market looked good for hitting three million annual sales by 2020.
Now, in 2020, reaching two million will be an amazing result.