The Independent Motor Dealers Association (IMDA) has appointed Aston Barclay as its new auction partner.
As part of the partnership, the 600 IMDA members will have access to Aston Barclay's six auction centres with IMDA stock being branded as part of weekly dealer sales held at each site.
Members will also have access to Aston Barclay's digital buying solutions including wholesale finance.
Throughout November 2020's COVID-19 'Lockdown- 2' in England, used car values declined or remained static as Aston Barclay continued to trade vehicles online – maintaining 70% of its usual capacity.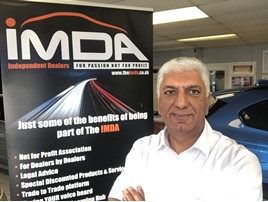 Umesh Samani, chairman of the IMDA, said: "Our dealer businesses are built on our reputations for buying, selling, and servicing good quality used vehicles predominantly in our local areas.
"By appointing Aston Barclay, we will immediately benefit from the latest digital products and services which will give our members greater access to the right stock and help us sell more used cars more often.
"Aston Barclay is an independent business, so the partnership fit is perfect, and we look forward to working together."
The partnership will also provide IMDA with further products and services later in 2021 to help support individual dealer member's marketing strategies.
Richard Cross, group sales director at Aston Barclay, said: "As we have seen since the first lockdown independent dealers are at the coal face of the used car industry and provide a vital service to consumers and businesses across the country around the clock.
"We look forward to a long and mutually beneficial partnership working together with the IMDA."
Launched in August 2017, the IMDA is a none profit organisation which aims to support independent car retailers through the provision of support, recognition, buying power, and a voice to influence change within the industry.
In April 2020, the IMDA welcomed Jim Reid Vehicle Sales' Phil Buchan to its board.
In 2019, the association celebrated it's two-year anniversary with the appointment of Vertu Motors general manager, Simon Blackwell into its leadership fold.