The National Franchised Dealers Association's (NFDA) Electric Vehicle Approved (EVA) scheme has reopened for applications from franchised and independent motor retailers.
The NFDA said since the scheme launched in May 2019, more than 200 retailers across the UK have been accredited and several additional ones are on the waiting list for 2021/2022.
EVA certifies the efforts and investments that retailers are making in the electric vehicle (EV) sector to meet changing consumer demand, it said.
The scheme is endorsed by the Government's Office for Zero Emission Vehicles (OZEV) and Energy Saving Trust - OZEV has confirmed it will continue to co-fund the scheme.
OZEV is keen for accredited members to be from a broad spread of dealers selling EVs.
Sue Robinson, NFDA chief executive, said: "Retailers are key to ensure that motorists embrace low, and zero emission vehicles and it is extremely positive that our Electric Vehicle Approved accreditation scheme will continue to play a crucial role in electrifying transport.
"We look forward to continuing to work with the Office for Zero Emission Vehicles and Energy Saving Trust to drive forward the transition to zero emissions."
The EVA status is awarded to individual dealership locations and not to dealer groups. The independent audit is performed by Energy Saving Trust and results in either a pass or referral.
NFDA is the awarding body and on receipt of a successful audit report will grant the dealership site EVA status.
The NFDA said visiting an EVA accredited dealer, consumers can be assured that they will be looked after by retailers with the highest level of expertise in both EV sales and aftersales.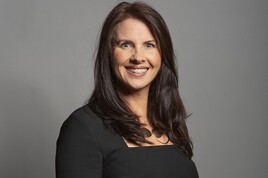 Trudy Harrison, transport minister, said: "As we work to decarbonise transport across the UK, it is vital dealerships have the training and knowledge they need to advise drivers on the important benefits of switching to electric vehicles.
"That's why I'm delighted that we are continuing to support the Electric Vehicle Approved (EVA) accreditation scheme to help and endorse even more retailers who are committed to achieving our net zero targets."
Following the reopening of the scheme, retailers can apply to receive their EVA badge of approval.
The NFDA will be at Automotive Management Live on November 11 where it can answer any questions dealers have about the EVA scheme.
And in the Inspiration Theatre at AM Live, Boston Consultings Arturs Smilkstins will share insights into how UK motor retailers can excel in the transition to electric cars.