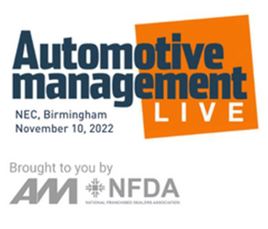 More than two dozen new suppliers have signed up to exhibit at Automotive Management Live 2022, the annual exhibition at Birmingham's NEC for the UK's motor retail industry.
Business intelligence specialists, energy suppliers, innovative revenue streams and EV charging point providers are among the latest suppliers to franchised and independent dealers who have signed up for exhibition stands at AM Live on November 10.
Added to many returning exhibitors such as carwow, Cox Automotive and EMaC, the exhibition hall will bring together more than 60 supplier brands in one place for the event, which is supported by the National Franchised Dealers Association.
AM Live is free to attend however visitors need to register in advance via the Automotive Management Live website.
New features for Automotive Management Live 2022 include advice on coping with a turbulent economy and rising costs, insights into how major dealer groups are future-proofing the workforce and essential technology within an EV charging zone.
With the support of the Independent Motor Dealers Association, AM Live also hosts a session focused on strategies for independent used car dealers to grow their businesses despite the challenging used car market.
Chris Lester, Bauer B2B's events director who oversees the event, said: "I'm delighted to see so many significant industry suppliers signing up for AM Live to give motor retailers the support, advice and technology they truly need to make their businesses more effective.
"It looks set to be a superb event, full of inspiration and insights.
"There is now only limited stand space left, so any industry suppliers that want to be seen at the industry's annual leading exhibition will need to make the call soon."
The session topics at 2022's Automotive Management Live show on November 10 at Birmingham NEC will include used car retailing best practice, digital communications, aftersales, social media marketing, online vehicle retailing, profitability and more.
"Dealers have had many challenges to deal with this year but taking time out to visit AM Live will be so worthwhile," said AM editor Tim Rose.
"Our presenters are poised to share their insights and help dealers make more of every opportunity to make sales, delight customers and keep their back office functions as efficient as possible."