Ohme mobility director Peter McDonald says the electric vehicle (EV) charge point provider will prove its value to car retailers and customers after striking up a new partnership with the Volkswagen Group.
Speaking to AM after announcing that Volkswagen, Cupra, Skoda and Seat retailers would all feature Ohme's charge points in their showrooms as part of the new partnership, McDonald was keen to highlight the connected units can play in battling motorist's cost-of-living issues and mitigating against the impacts of the current energy crisis.
The former Seat and Nissan fleet director said: "We are extremely proud of the partnership with Volkswagen Group and it's a big commitment for us, so delivering the very best service is in the forefront of our minds right now.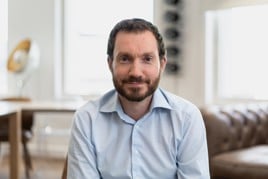 "Retailers may have existing agreements and suppliers in place so we know that we have to prove our worth to them and their customers as a high-quality provider who can deliver value.
McDonald said that value lies at the heart of the Ohme offering.
Its connected system works on data about the EV's battery capacity and the owners desired commute to schedule charging in the hours when electricity costs are at their cheapest rate per kWh.
As well as saving customers' money, the technology has seen Ohme branded as a 'gigacorn' by outside investors as a result of its potential to get rid of one gigatonne of CO2 from the atmosphere per year.
McDonald said: "Obviously with Government's net zero plans for 2030 there is a really ned for household charge points to work in harmony with the grid and with electricity prices what they are now, it's in the customers' interests too."
Ohme is a long-standing partner of the Motability charity, packaging a charge point with every EV.
It also offers an exclusive EV-tailored home energy tariff in partnership with Octopus which still offers and off-peak electricity charging rate of 7p per kWh, MacDonald said.
He added: "Hopefully, with the simplicity of set-up and our concierge approach to dealing with customers, Volkswagen Group retailers will see the value in working with us.
"They will also be renumerated for every lead. It won't make them as much as GAP insurance or paint protection, perhaps, but we believe it should be a straightforward upsell for them in the years to come."
Commenting on the new partnership with VW's EV brands Ohme founder and chief executive David Watson said the partnership underlines Ohme's position as "one of the UK's fastest growing smart charging companies".
Alistair Shields, group commercial services director for the Volkswagen Group, said: "We are delighted to announce that we will be partnering with Ohme as our preferred home wallbox supplier.
"Earlier this year, we conducted a review of leading home wallbox providers and it was clear from customer feedback that smart and intelligent charging, together with carbon optimisation, were among their top expectations for a wallbox provision, which is why we chose Ohme.
"Its award-winning Home Pro product and excellent attitude towards customer service represents a clear differentiator in the market."