The fastest selling used cars in April were petrol models, as demand for the fuel outweighed that of diesel for the first time.
Hyundai took the number one spot in the used car rankings, which are compiled by Indicata, with its Tucson SUV (pictured above), for the second consecutive month.
It shared the position with BMW's 3 Series, which has seen a boost in demand since the launch of an all-new model.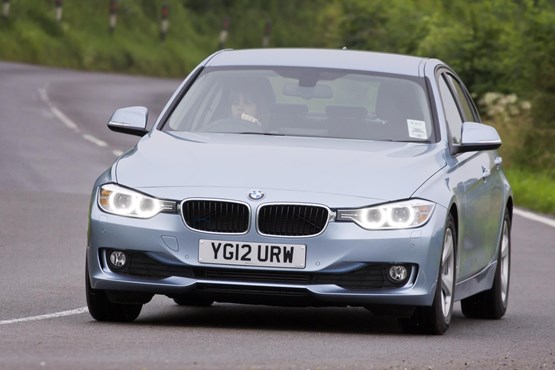 Neil Gilligan, national business development manager, Indicata UK explained: "April's data serves to highlight the strength of the petrol market in April and signals one of the first months where diesel demand was outweighed by petrol.
Average days to sell were also at their lowest since the turn of the year which reinforces the current strength of the used car market."
Seven out of the 10 fastest selling cars in April were petrol models. The petrol-powered Ford Focus occupied third place in the ranking, while the diesel vision places fifth.
SUVs continue to dominate, comprising 60% of the top 10 with the remainder hatchbacks - except for the BMW 3-Series.
At the opposite end of the Indicata data, the slowest-selling used cars were the petrol Nissan Micra (71 days), Nissan diesel Nissan X-Trail and petrol Mini at 67 days, and the petrol Suzuki Vitara (64 days).
Gilligan added: "With four used cars costing an average of more than £20,000 on the list it shows that consumers are prepared to spend a reasonable sum on their car.
These drivers could be some of those motorists who have been moving from buying a new car to a used car."
Top 10 fastest-selling used cars April 2019*
| | | | | |
| --- | --- | --- | --- | --- |
| Position | Make and model | Fuel | Average number of days to sell | Average sale price (£) |
| 1 | Hyundai Tucson | P | 35 | 16,423 |
| 1 = | BMW 3 series | P | 35 | 21,107 |
| 2 | Kia Sportage | P | 39 | 17,741 |
| 2 = | Ford Focus | P | 39 | 15,027 |
| 3 | Vauxhall Mokka | P | 40 | 13,041 |
| 3 = | Ford EcoSport | P | 40 | 14,161 |
| 4 | Toyota C-HR | P | 41 | 22,265 |
| 4 = | Ford Fiesta | P | 41 | 11,376 |
| 5 | Mercedes A-Class | P | 42 | 19,813 |
| 6 | Ford Focus | D | 43 | 13,971 |
| 7 | Citroën C3 | P | 44 | 9,334 |
| 7 = | Toyota Yaris | P | 44 | 11,947 |
| 8 | Peugeot 2008 | P | 45 | 11,454 |
| 8 = | Renault Clio | P | 45 | 10,272 |
| 8 = | Peugeot 3008 | D | 45 | 20,208 |
| 8 = | Ford Kuga | D | 45 | 18,347 |
| 8 = | Nissan Juke | P | 45 | 12,319 |
| 9 | Nissan Qashqai | D | 46 | 16,250 |
| 10 | Hyundai Tucson | D | 47 | 17,136 |
| 10 = | Volvo XC60 | D | 47 | 28,964 |