BCA has revealed that the average value of a used vehicle rose 1.6% to a record £10,002 at its auctions in February as it praised the sector's resilience in the current COVID-19 coronavirus health crisis.
The remarketing specialist published detail of the ongoing increase in use car values ahead of the outbreak of the virus in the UK in its monthly Pulse Report and said that high levels of demand had continued into March.
Stuart Pearson the chief operating officer of BCA UK Remarketing, said: "Whilst there is without doubt a significant strain on the industry at present, it's been incredible to see the resilience of our staff and customers who continue to adopt a very pragmatic approach to carrying on with business as usual wherever possible."
Average used car values rose at BCA in February 2020 as strong demand continued from professional buyers.
BCA's latest Pulse Report showed that the headline used car value rose to £10,002 in February, an increase of £162 (1.6%) month-on-month and the fourth highest monthly average on record at BCA.
Year-on-year, the headline value figure improved by £204 (2.1%).
Average year-on-year values increased across all sectors at BCA in February, according to BCA, with dealer part-exchange values rising to the highest point on record, fleet and lease vehicles reaching the third highest average value ever recorded and nearly-new vehicles the second highest figure on record.
Year-on-year table: All cars

Pearson said: "February was a strong month in the remarketing sector and BCA saw competitive bidding across the board from high value prestige stock to older, higher mileage budget vehicles.
"As in previous years, BCA saw sustained demand in the run-up to the March plate change."
He added "This continued into early March with competitive bidding from professional buyers driving demand, with excellent conversion rates and typically strong price performance."
As coronavirus puts many car retailers and suppliers focus firmly on the ability to offer online solutions to address concerns about the UK Government's 'social distancing' policy, BCA reported that online trading at BCA had accounted for over 38% of vehicle sales during February.
That figure is likely to rise significantly in March and the months to come.
Fleet and lease values averaged £12,290 at BCA in February 2020, the third highest value ever recorded at BCA and maintaining a consistent run of improved price performance that stretches back to September of last year, with the last six months representing the six highest monthly values recorded.
Year-on-year values were up by £768 (6.7%) with both average age and mileage continuing to rise. The retained value against original MRP (Manufacturers Retail Price) averaged 43.7%, down by 0.3ppts, year-on-year.
Year-on-year table: Fleet & lease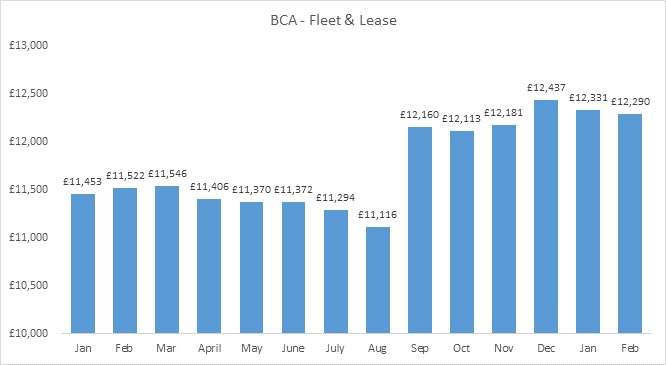 Dealer part-exchange values at BCA rose to record levels for the third month running during February 2020, increasing by £97 (1.8%) over the month to reach £5,494.
Average values for part-exchange vehicles were up by £327 (6.3%) compared to the same month last year, with stock showing a lower age and mileage profile.
Year-on-year table: Dealer Part-Exchange

Values for nearly-new vehicles at BCA averaged £26,735 in February 2020, the second highest value on record with year-on-year values up by £3,651 (15.8%). Model mix has a significant effect in this sector, with brand specific winners and losers.
Year-on-year table: Nearly-New