The 2016 Ford Ka city car has retained its status as Auto Trader's fastest-selling used car in February as the online marketing platform recorded a speeding-up of stock turn ahead of the key number plate change month of March.
Ford's affordable hatchback took an average of just 23 days to leave forecourts as it finished top of the rankings of fastest-selling cars once again having ended a run of sales success for the Renault Zoe electric vehicle (EV), which had been the fastest seller in 2019 as a whole and January 2020.
Mazda took two of February's top ten places, however, with its CX-5 securing the silver (2016 diesel automatic) and bronze (2016 diesel manual) positions it achieved last month.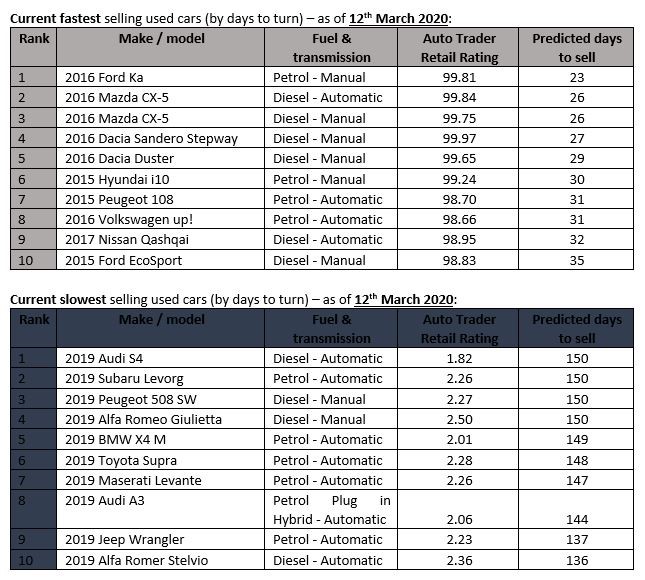 Like the Ka, the Japanese manufacturer's popular family SUV saw their average days to sell accelerate, from 27 and 28 days to 26, Auto Trader reported.
Dacia also had two returning models this month: the 2016 Sandero Stepway (diesel manual) and the 2016 Duster (diesel manual), which saw their days to sell fall from 30 and 31 days to just 27 and 29 days.
Auto Trader's director of commercial products, Karolina Edwards-Smajda, said: "It was positive to see the average speed of sale of the UK's national fastest sellers decrease in February.
"This highlighted the renewed consumer confidence we had seen reflected on our marketplace, including a 9% year-on-year increase in the number of visits in February and a 10% growth in ad views.
"That said, we are very aware of the challenges faced by retailers in the current market with the Covid-19 crisis.
"We continue to see robust audience performance on our platforms and are working on how we can best support retailers over the coming weeks and months."
The UK's car retailers will be hoping that coronavirus' impact on the used car sector will be less pronounced than those in China, which saw its new car retail volumes decline by 80% in February.
As Auto Trader's February fastest-sellers insight revealed evidence of increased demand across the UK last month, they also noted that sales of used diesel vehicles continue unabated.
Diesels accounted for six of the top 10 cars on the national list, suggesting the fuel type is still an attractive option among used car buyers.